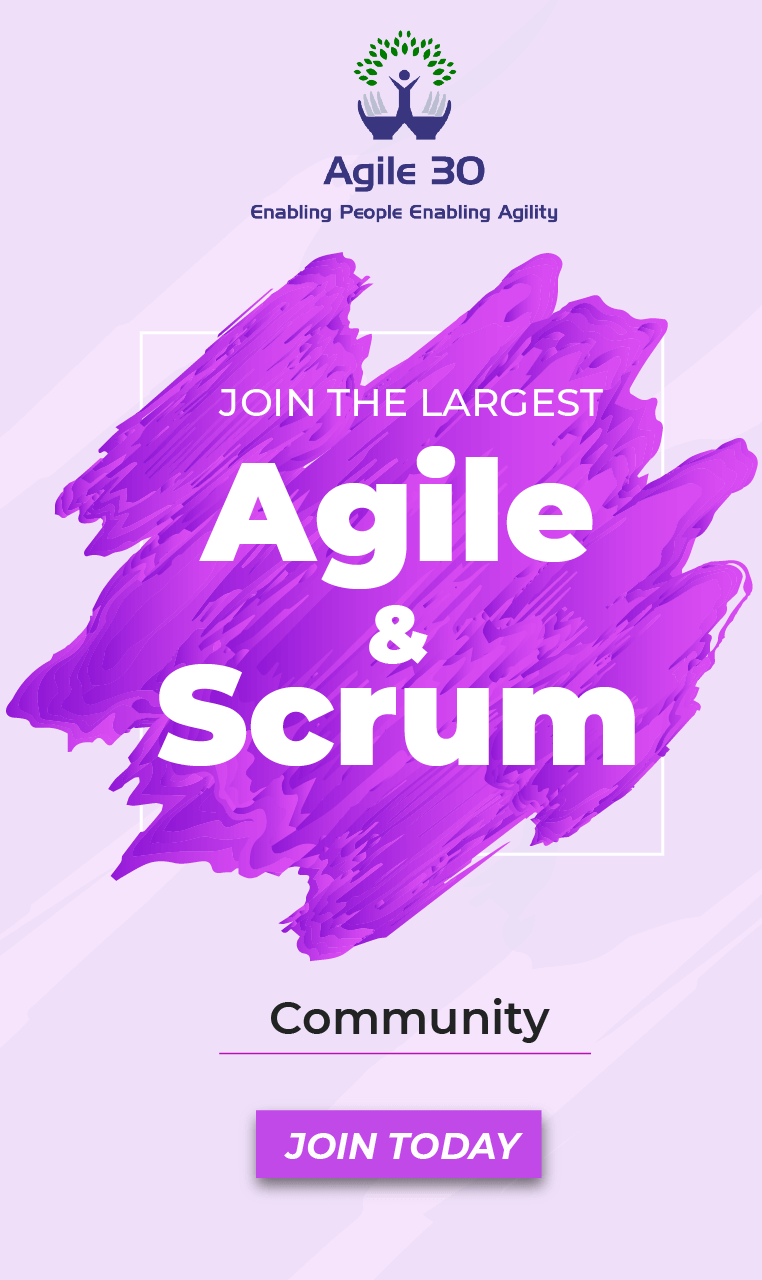 The year was 2011 and there was a pressing need for a scaling framework that could help large organizations design efficient systems to build enterprise level products/solutions to cater to customer's rapidly changing needs.
Recognized as one of the world's foremost authorities on Lean-Agile best practices, Dean Leffingwell took it on himself to do something about it. He introduced the Scaled Agile Framework® (SAFe®).
What is SAFe®?
SAFe® is a knowledge base of proven, integrated principles, practices and competencies for attaining business agility using Lean, Agile, Systems Thinking, and DevOps.
SAFe® endorses alignment, transparency, collaboration, and product delivery involving large size teams. The core of SAFe® is based on four bodies of knowledge which are agile software development, lean product development, systems thinking, and DevOps.
SAFe® is based on following 10 Lean-Agile principles-
Take an economic view
Apply Systems Thinking
Assume variability and preserve options
Build Incrementally with quicker integrated cycles
Base milestones on an objective evaluation of working systems
Visualize and limit WIP, reduce batch sizes, and manage queue lengths
Apply cadence and synchronize with cross-domain planning
Unlock the intrinsic motivation of the knowledge base
Decentralize decision making
Organize around value
It's been a decade since the inception of SAFe® and it has become the most preferred framework to build enterprise level products.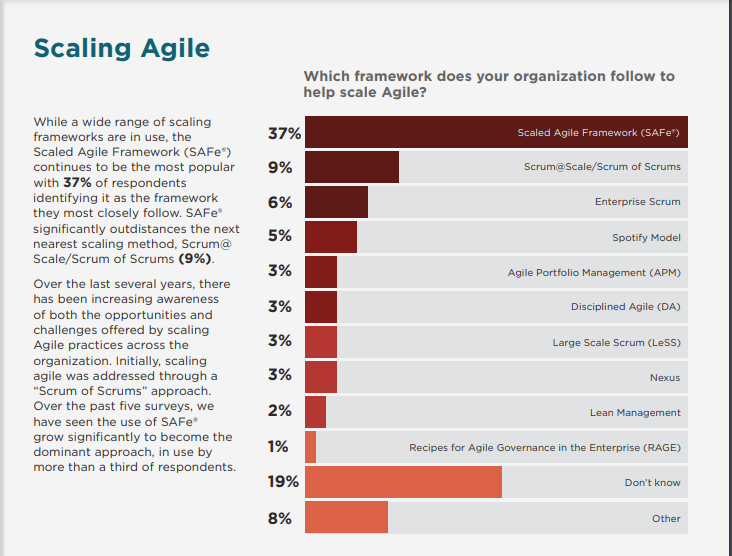 As per the 15th State of Agile Report, 37% of the organizations reported that they use SAFe®.
That speaks volumes of SAFe®'s effectiveness as a scaling framework that helps large organizations align the right people, deliver high-quality solutions customers want, and respond to threats and opportunities.
You can kickstart your career in SAFe® through Leading SAFe® 5.1 certification.
Most Common Reasons to Use Scaled Agile Framework
SAFe® is new in comparison to its contemporaries yet why is it becoming the go to scaling framework for large organizations?
As we dug deeper into the plausible reasons, we unearthed a hidden treasure.
Finally, let's cut the suspense and closely at the common reasons to use SAFe®.
Rest for a minute or two because it's going to get your heartbeat thumping.
The common reasons for adopting SAFe® by large organizations are enunciated below-
Alignment of all the teams towards a common goal: Team alignment is the process of ensuring that all the cross-functional teams are dedicated to a common goal. SAFe® ensures alignment as it ensures seamless collaboration, coordination, and communication.
Facilitate cross-domain planning: Team planning is a major challenge that organizations grapple with. SAFe® offers a solution in the form of PI planning. Program Increment (PI) planning is a meeting of numerous teams that are a part of an Agile Release Train (ART) where they gather to plan the roadmap, work on features and additions, and recognize cross-team reliance. The benefits of PI Planning include establishing face to face communication, aligning to a common vision, trust-building, encouraging inter ART collaboration, finishing tasks faster, and quicker decision making.
Enable enterprise-wide visibility: Agile lifecycle management solutions represent and connect the different backlogs and Kanban teams. This helps them manage their local work and provide enterprise-wide visibility.
Coordination between teams and working together: Team coordination and harmony are possible through a free flow of collaboration and culture. Agile teams are united by a common vision and goal to provide value to their customers. In the Scaled Agile Framework, every team member works diligently. They work with each other and work together to manage dependencies and resolve impediments. Constant feedback loops ensure collaboration and better output.
Cross-Team Dependencies: Cross-team dependencies become a source of constant pain. Overdue deadlines, express meetings, disorderly change in context. This is where dependency management comes to the rescue. Dependency management is the method of actively analyzing, measuring, and working to reduce the mess created by intra team or cross-team dependencies. The cross-team dependencies can be characterized under two types-
Recommended Reading: 12 Incredible Reasons You Should Get a SAFe® Agile Certification
Challenges of Adopting the Scaled Agile Framework
Anything that becomes popular and enviable always faces some kind of challenge with regards to its adoption and implementation. SAFe® too was not free from this bane.
Here are some of the common challenges that no organization is stranger to when adopting SAFe®.
1. Long term planning and iterations for big teams

The first challenge faced by Agile teams that tops the list is planning ahead and carrying out iterations for big teams. Development teams work seamlessly in purifying their iterations. Marketing teams on the other hand have to work diligently to deliver promised results to the clients. Planning ahead of time ensures that there is space to accommodate sudden changes. It also helps you become responsive to customer needs and your own organization. Create a roadmap that specifies the vision and conveys the team the goals it is supposed to achieve. Then ensure your teams' backlogs are in line with your vision and roadmap. Proactively ask them to share descriptive task plans for forthcoming iterations, recognize and rectify issues, and modify the roadmap as needed.

2. Ensuring agile consensus and balance across cross-functional teams

Most teams use agile tools to scale agile projects, a common impediment is ensuring that there is agile consensus and balance across cross-functional teams. To fix this problem, you should first ask around if the organization has preference for a particular framework. If the answer is affirmative, find out the factors for the affinity such as standards, compliance, speed, cost, technology, or consumer requirements. Then figure the major transformation that you plan to achieve with SAFe® based on the enterprise's goals and objectives.

3. Uninterrupted collaboration, coordination, and communication between teams

Agile teams work together on building scalable projects but in the process communication, collaboration and coordination gets lost. To solve this, make the expectations clear from the onset so all members are aware about their roles and responsibilities. Prompt team members to ask questions regularly and ensure there is no ambiguity about process improvements. Feedback during team meetings must be made mandatory so that teams can reflect what worked and what didn't and improve on the flaws.

4. Lack of education with respect to SAFe®

All Agile teams are taking strides in scaling their projects but a lot of them are averse to using SAFe® because they don't have knowledge about its uses. Organizations should understand SAFe® by the book. They should educate themselves about the framework, how beneficial it is to the Agile Development process and where it lacks. Other key information to know are the roles of different members at different levels. Finally, you should also understand the terms that form the framework.
The Pros and Cons of the Scaled Agile Framework® (SAFe®)
Like all things, SAFe® too has its share of pros and cons that needs to be understood before adopting SAFe® as a framework.
Let's do the honours with pros because positivity is the need of the hour.
Pros:
Customer centric ideology: A holistic approach towards product design, build execution and delivery is a potent factor for the success of a product. SAFe® promotes research intensive and end user driven enterprise.
Alignment to organizational goals: Cross functional teams working in silos has always been a major pain point. SAFe® eliminates this by encouraging seamless collaboration between stakeholders and production teams.
Increased Employee Engagement: SAFe® increases employee engagement by 9.8%. It helps employees achieve autonomy, mastery, and greater purpose which are vital in unleashing the innate motivation. It helps organizations in reducing burnout and improving employee satisfaction.
Faster Time to Market: The stand out pro of SAFe® is its ability to align cross functional teams that can help organizations meet customer demands faster. It helps in making faster decisions, communicating effectively, streamline operations, and focus on the end user.
Cons:
Jargon heavy: SAFe® relies heavily on technical terms. Terms such as Release Trains, Program Increments, runways, guardrails make it difficult to remember. Unlike Agile, SAFe® has changed certain terms like sprint to iterations. This is the most disliked part of SAFe® as a framework.
Startup Averse: SAFe® was originally developed for large scale enterprises. It won't succeed in a startup that has less than 40 members. Using SAFe® may backfire as it may reduce the ability to adapt in highly volatile markets.
Top-Down Approach: SAFe® is rigid in nature and follows a top-down approach. The decision-making power rests with top level managers and organizational honchos. No autonomy for project managers puts undue burden on them and makes other employees clueless. Without freedom to make decisions, employees feel that SAFe® isn't any different from traditional frameworks.
Incorrect definition of Epics: In other Agile frameworks, Epics refer to the long-term projects that are currently in progress. In SAFe®, Epics are substantial enterprise initiatives that need to be assessed for their potential ROI so they can be started.
How SAFe® Benefits Organizations
We've finally arrived at the most awaited core topic. No brownie points for guessing. Let's look at the benefits that SAFe® offers to organizations-
Superior Quality: Organizations can only thrive if they are able to compete in the competitive market and cater to the constantly changing needs of the customer. One of the core values of SAFe® is built quality. It flows through all levels. A secure environment is conducive for large enterprises without quality assurance, superfluous rework and snail paced velocities will fetch mediocre results.
Increased Productivity: SAFe® ensures collaboration which fosters transparency thereby having a clear understanding of the deliverables and meeting the expectations of the stakeholders.
Harbours Team unity: Agile teams are cross functional and they consist of members from different departments. Transparency, collaboration, and coordination ensures that the team is aligned towards a common goal.
Recommended Reading: Comprehensive Guide to Becoming A SAFe® Agilist
To conclude
SAFe® comes just behind Scrum and is fast becoming popular. Used by 8,00,000 people in 20,000 organizations worldwide. We have mentioned the challenges, pros and cons, and benefits of SAFe®.
If your organization has adopted SAFe®, let us know how it has worked in the comments. We'll be waiting for your comments.
Find Our Upcoming Trainings