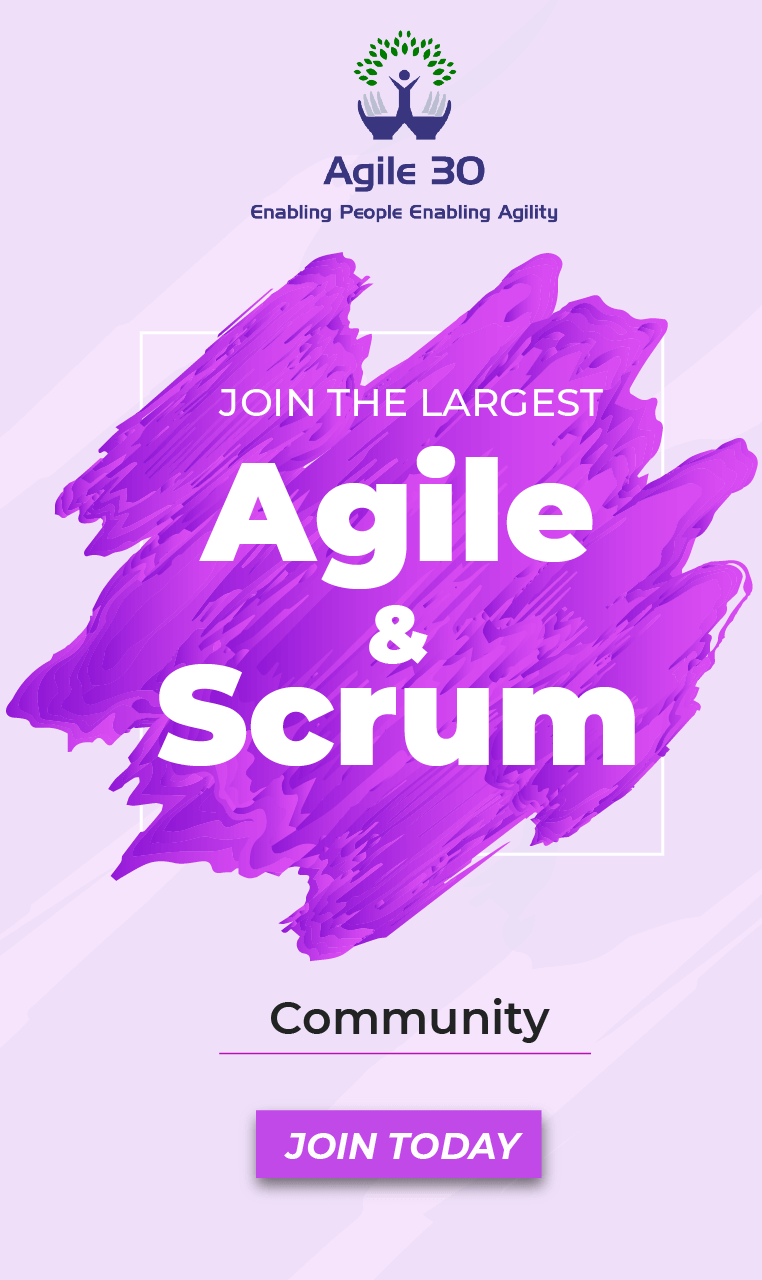 The 15th State of Agile Survey is out. The results have revealed some surprising findings but one thing has been the same.
Any guesses?
And, the winner is Scrum. The survey revealed 66% of the organizations voted Scrum as the most sought-after Agile
framework.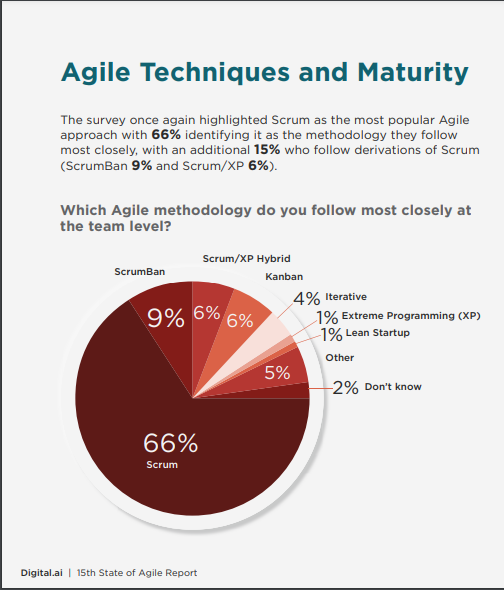 Source: 15th State of Agile Report
Now, the question arises as to what Scrum is and why it is so popular, that it is an all-time favorite agile framework.
Let's find answers to all your questions.
What is Scrum?
Scrum is a framework within which people can address complex adaptive problems while productively and creatively delivering products of the highest possible value.
The birth of Scrum happened due to the drawbacks of the waterfall model.
The benefits that Scrum provides are numerous. Here are some of the key benefits worth highlighting-
Revenue: In Scrum, new features are built-in increments during short sprints. After each sprint, a usable product is available. This ensures a functional product to be released rather than waiting for a complete product to be released post the development cycle.
Quality: Testing is done during every sprint which allows for frequent inspection of the product that is a work in progress. This ensures there are quality checks before the product is released.
Customer Satisfaction: Who doesn't want to earn customer's approval? That is only possible if there is customer satisfaction. In Scrum, the sprints are of short duration and the results are delivered and good for testing within 1-3 weeks. The goal is to build new features or corrections regularly and seek feedback from customers frequently. Bugs are fixed quickly and new features are added on the go.
Reduced Production Costs:

Scrum is a wonderful fix to reduce production costs. Production costs soar due to the delay in time and unnecessary costs. Scrum can help estimate the total cost of production.
Story pointing is used for approximation of the difficulty of any of the tasks. The convolution corresponds to the costs of production.
Story pointing allows teams to estimate the near to the accurate cost of building new features and allows teams to prioritize tasks based on their difficulty.
Who is a Scrum Master?
Finally, let's address the elephant in the room.
A Scrum Master is the leader of the Scrum team who is responsible for implementing Scrum as mentioned in the Scrum guide. They must ensure that the best practices of Scrum are followed by the team members.
The Scrum Master essays a different role to each stakeholder-

Scrum Team
Coaching the team members in self-management and cross-functionality
Assisting the Scrum team focus on forming high-value increments that meet the Definition of Done
In charge of removing the obstacles hindering the progress of the Scrum team
Make sure all Scrum events taking place are positive, productive, and is within the timebox
Product Owner
Assisting in finding techniques for effectual Product Goal definition and Product Backlog Management
Explaining the importance of Product Backlog items in a clear and succinct manner
Aiding in setting up empirical product planning for an intricate environment
Smoothen stakeholder collaboration as requested or needed
Organization
Guiding, training, coaching, and mentoring the enterprise in Scrum assimilation
Planning and supervising the Scrum implementation within the firm
Teach employees and stakeholders to understand and enact an empirical approach for complex work
Eliminating barriers between stakeholders and Scrum teams
How Do I Become a Scrum Master?
Becoming a Scrum Master requires certification training from a globally recognized body.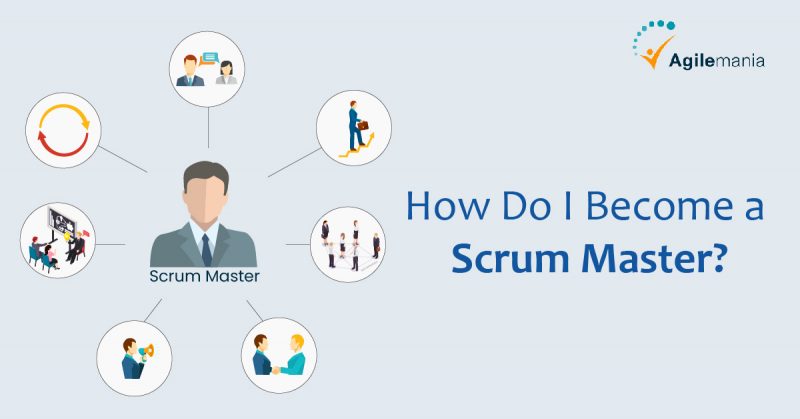 However, before we get there, here are some of the skills, you should develop-
Agile Masters:

The difference between average Scrum Masters and great Scrum Masters is their proficiency in Scrum. Not only are great Scrum Masters proficient in Scrum but also other agile frameworks. methods, and best practices.

Scrum Masters are scholars in agile values and principles. They are aware of how to train, coach, and help other people in embracing these values.
Coach and Mentor:

Scrum Masters play the role of coach to the Product Owner, Development Team, and Organization.

They question people and can change their beliefs, mindset, and behavior. They are mentors and consultants who advise, guide, and offer practical advice on agile transformation and agile leadership.
Servant Leader: A Servant Leader leads from the front. They lead by example and exhibit behavior necessary for change.
As a servant leader, Scrum Master is responsible for-
Fixing the Scrum as a servant process, not a commanding process

Assisting the Development towards self-organization

Leading the team through healthy conflict and debate

Teaching, coaching, mentoring the organization team in embracing and using Scrum

Protecting the team from external disturbances and threats

Work with the team to identify impediments and prevent them

Encourage, support, and help the team to reach their full potential and abilities

Ensuring transparency through product and sprint backlog, daily scrum, reviews, and a visible workspace.

Creating a healthy collaboration exists within the team
To develop the above specific skills, the best way is to enroll in a Scrum certification that not only offers practical learning and also is globally recognized.
To make it easy for you, we have provided the three globally relevant industry certifications.
Let's check them out one by one.
Top Scrum Certifications in 2023
Scrum.org

Scrum.org is one of the prominent certification providers in the agile methodology. It is the home of Scrum. Ken Schwaber founded Scrum.org to provide solutions to solve complicated problems. It teaches Professional Scrum through certification training and course. The Professional Scrum Trainers or PSTs provide hands-on real-world learning. It offers two main Scrum Master Certifications.

The Professional Scrum Master(PSM) certification teaches the principles of Scrum and the Agile mindset. You will be taking a leaf out of successful practices adopted by organizations. The course will teach you to apply Scrum to help teams and organizations. The other lesson that you will learn is to comprehend the complexity and uncertainty in product delivery. You'll learn the true definition of done and its relevance to transparency. Learn the art of using Product Backlog to plan with agility.

Who should pursue this course?

Individuals involved in product delivery

People interested in starting their Scrum career

Scrum Masters, Scrum team members, and coaches who want to take a refresher course



The PSM-II training is for individuals who have proficiency in Scrum and are essaying the role of an agile coach, change agent, change leader, or scrum master in an organization. Over 2 days, you will learn to apply the following stances as a Scrum Master-

Teacher

Coach and Mentor

Facilitator

Change Agent


Who should attend the course?

The course is designed for members involved in the software development process. It is suitable for Scrum masters having 1 year of experience. Agile coaches, change agents, change leaders, leaders, and managers.



Scrum Alliance

Founded in 2001, Scrum Alliance was the first to offer a Scrum certification. Till date, it has 1,082,451 certificants.

The brainchild of Jeff Sutherland and Ken Schwaber, Scrum Alliance is the only member-driven nonprofit certifying body in the agile space.

The CSM certification is the most popular scrum certification. The 2-day training will teach the Scrum framework and understand team accountabilities, events, and artifacts. You'll also learn to guide the team using Scrum.



Who should pursue this course?

The CSM certification is for everyone involved in the software development process. It is helpful for Scrum Masters, managers, and team members.

Scaled Agile

The SAFe Scrum Master (SSM) training gives you an understanding of the role of a Scrum Master in a SAFe enterprise. The 2-day training will teach you how to plan and implement the Program Increment (PI) planning which enables alignment throughout all the levels.



You also learn the following-



Coach and lead Agile teams in a SAFe organization

Become a servant leader to build a high-performance team

Implement DevOps for seamless flow and delivery

Facilitate Iteration Planning

The Advanced Scrum Master training is a 2-day course where you'll be learning to simplify success for Agile teams, Agile Release Trains(ARTs), and the enterprise.

As a Scrum Master, you'll learn to smoothen the cross-team interactions in favor of program execution and constant improvement. Additionally, you will learn ways to improve your coaching and facilitation skills to assist your team.

The course will teach you to use tools to identify and avoid the common anti-patterns when scaling.

You will learn the following add-ons in this course-


Methods to use engineering practices like Kanban, DevOps, and Agile architecture to enhance the flow

Learn to create communities of implementation to help high-performing and ART ability

Lead dispersed teams productivity in remote conditions


Who Should Pursue This Course?

This course is ideal for the following individuals-

Scrum Masters who need to ace this role

Scrum Masters who want to get a concrete understanding of the role in a SAFe enterprise

SAFe Release Train Engineers who want to coach Scrum Masters on their role

This course would be perfect for Scrum Masters, Team leaders, and Project managers. Anyone who essays the role of an Agile Team facilitator in a SAFe enterprise.



Other prospective attendees for this course would be Development Managers in charge of Agile execution and coaching teams.

Lastly, Agile coaches, Agile Program Managers, and Release Train Engineers in the making.
Frequently asked questions (FAQs)
Which Scrum certification should I get?

Which Scrum certification you get will depend on what's necessary for your goals. If you're having a hard time deciding, look through a few job descriptions you're interested in applying to, and see what certifications they mention. You can also talk to your employer to see if there are any specialized skills, they want Scrum masters to have.

How much do Scrum certifications cost?

Scrum certifications can cost anywhere from $150 to more than $1000 to get, depending on the certification. More expensive certifications generally require coursework, which can lead to high costs.
Wrapping Up
Scrum Master is one of the most in-demand jobs. The certifications above are globally recognized so no matter which part of the globe, you can land a job.

Becoming a Scrum coach paves way for high-paying opportunities such as Scrum coach, product owners, or project managers.

Take your time, do your research and decide which agile methodology you want to learn, Scrum or SAFe. If you're unable to figure, then we are just a call away.
Find Our Upcoming Trainings