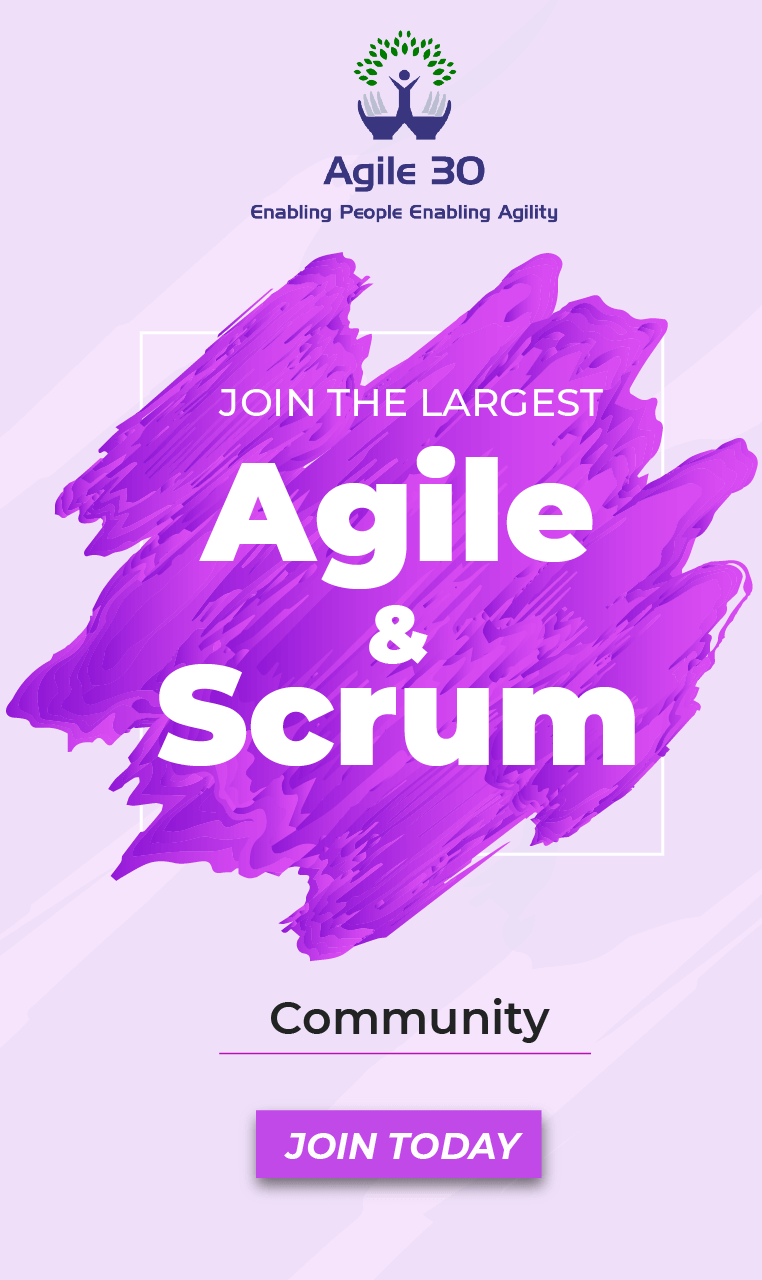 Organizations small and large are always burdened with measures to change with turbulent times. For an organization to function effectively in a fast-moving market, the existing structure must be analyzed and the flaws corrected.
46% of the organizations reported inconsistencies in practices and processes as their main challenge with agile transformation. While 42% stated that they lack experience and skills.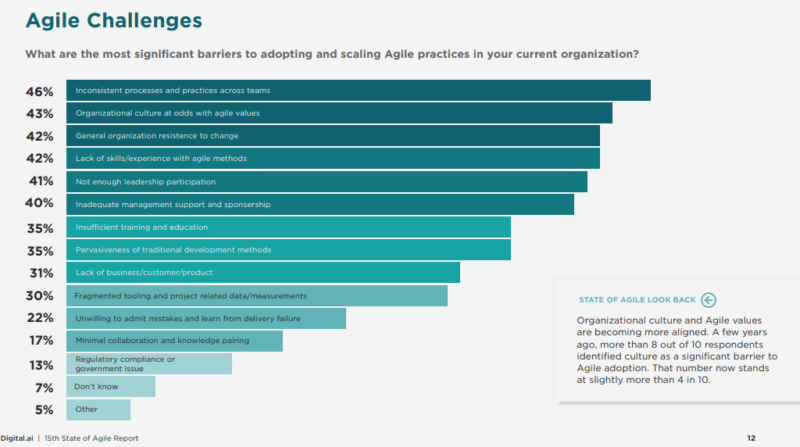 Source: 15th State of Agile Report
Is there a solution?
There sure is an
Agile framework
called SAFe. SAFe is a scaling agile framework, so referring to it as just an agile framework may not be appropriate.
SAFe is a knowledge base of proven, integrated principles, practices, and competencies for accomplishing business agility using Lean, Agile, and DevOps. With 37% of the organizations using SAFe, the opportunities to pursue SAFe as a career are infinite. Adopting a specific framework isn't enough, the entire organization has to be agile to thrive in this fast-changing market. And SAFe is the road to Business Agility.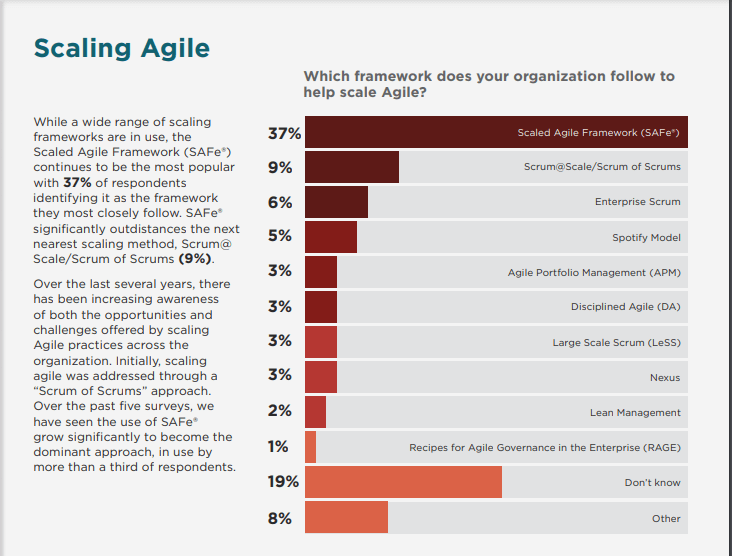 Source: 15th State of Agile Report
With 6000+ SAFe jobs, $100,000 salary for 86% SAFe jobs, and growing popularity as numero uno, SAFe is a fast-growing career opportunity.
The best way to get started is by pursuing a SAFe Agilist certification. So, you want to get started with SAFe Agilist but are hesitant to make a decision?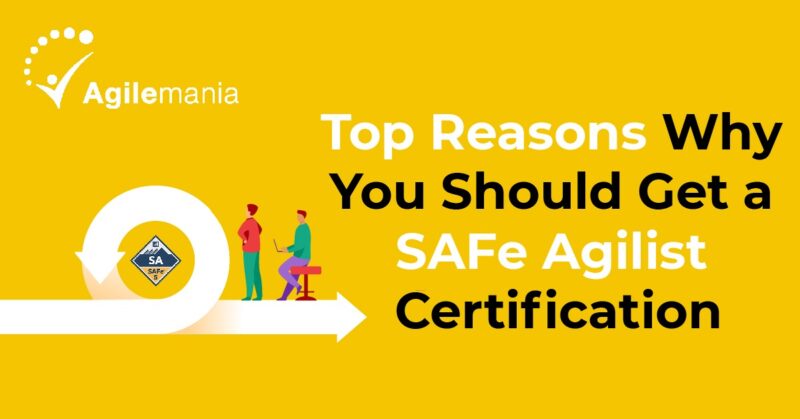 Here Are 12 Unbelievable Reasons Why You Should Get a Safe Agilist Certification-
1. Actionable Learning
A SAFe Agilist certification helps you learn the challenges commonly faced by big enterprises. It helps you spearhead agile transformation using lean thinking and
product development flow
in organizations.
The Leading SAFe class which leads to the SAFe Agilist certification is not just a class. It is a workshop with hands-on learning activities. You will not only get the understanding of what needs to be done but also why we need to do and how we do.
You will become a lean-agile leader and have a bird's eye view of the value streams. This helps in identifying the obstacles and ensures a smooth flow of operations.
2. International and Global Recognition
SAFe certifications are internally and globally recognized.
Once certified
, you will have tons of opportunities within your reach.
It is a niche skill and these skills are valuable in countries far and wide. The validity of the SAFe Agilist certification transcends geographical boundaries so finding jobs that pay high will never be an issue.
A SAFe Agilist receives an internationally recognized, digitally verifiable badge that reflects the rigorous standards set by SAFe's role-based training and certification program.
3. Resolve Agile adoption hurdles
Switching to Agile is easy in a small organization but it certainly isn't going to be a cakewalk when it comes to large organizations.
What works for small firms will not work for large enterprises. The Scaled Agile Framework® (SAFe®) is the world's leading framework for implementing enterprise agility. The SAFe Agilist certification will help you learn skills and know-how to implement agile to improve time to market, increase employee engagement, and improve quality.
SAFe training with Agilemania prepares you to align numerous teams, ensure IT coordination with different departments, deliver value to customers and follow the enterprise goals and vision.
Agilemania has a 4.95 rating in trustpilot.
4. Smooth implementation
In big enterprises, there are smaller teams that already are agile. Disaster occurs when they need to work together to build enterprise level products.
The SAFe Agilist Certification will teach you the skills to develop the expertise to follow a uniform approach throughout the entire organization.
Non-conformity to Agile practices will cease to be a problem because a certified SAFe Agilist will ensure there is product quality and architecture.
Leading SAFe Training will get you ready to lead SAFe transformation including - Launching Agile Release Train to plan, execute, deliver and bring numerous teams together.
5. Alignment with Cross-Functional teams
Agile teams are cross-functional. They
consist of 5-11 members
who define, build, test, and produce an increment in a short period.
SAFe Agilist Certification teaches you the nuances of aligning the teams to a common goal.
6. High Remuneration
Certified SAFe Agilist will take the first step in the SAFe domain. The remuneration is high. The average salary for a SAFe Agilist is
$106k
per annum.
7. Competitive times demand competitive measures
A Certified SAFe Agilist will be better experienced to handle contingency situations. They are prepared to align strategy and execution for the entire organization.
Aligning numerous departments is a herculean task, a SAFe Agilist Certification will give you the knowledge of processes and principles to do so without breaking a sweat. Well! Maybe a little sweat.
Leading SAFe training also allows you to express strategic goals at the program and portfolio goals.
8. Develop Lean-Agile Leadership
Lean-Agile Principles are the cornerstone of SAFe. The 10
SAFe Lean-Agile principles
are as follows:
Take an economic view
Apply Systems Thinking
Assume variability and preserve options
Build Incrementally with quicker integrated cycles
Base milestones on an objective evaluation of working systems
Visualize and limit WIP, reduce batch sizes, and manage queue lengths
Apply cadence and synchronize with cross-domain planning
Unlock the intrinsic motivation of the knowledge base
Decentralize decision making
Organize around value
The SAFe Agile certification will teach you
the nitty-gritty
of scaling Agile. SAFe isn't just about delivery or writing code but more about the people and process. They work diligently to ensure on-time releases.
9. Improves decision making at the organizational level
Decision-making during crunch situations is a critical skill. A SAFe Agile certification teaches you the skills of
Lean Portfolio Management
and Lean finance to make decisions based on economics and estimation.
10. Seamless Delivery
SAFe Agile certification will teach attendees like yourself to build a seamless continuous delivery pipeline
using DevOps
. Using DevOps ensures regular releases.
11. Faster Time to Market
Effectively planned release cycles with short periods decrease time to market and improve customer satisfaction using faster feedback loops.
The Leading SAFe Certification training will grant you skills to lead agile release trains and identify value streams etc.
12. Develops Lean-Agile Mindset
The lean-agile mindset is a mix of beliefs, assumptions, attitudes, and actions of SAFe practitioners who practice concepts of
Agile Manifesto
and Lean Thinking.
Lean-Agile Mindset is the precursor to business agility.
Winding Up
Pursuing SAFe Agilist certification has its perks. From getting a globally recognized certification to high-paying job opportunities that transcend geographical barriers, the benefits are numerous.
Added skills that you will be embracing are lean-agile leadership and mindset. A key competency of a leader is decision making in crunch situations and that is what getting a SAFe Agile Certification enables you to do.
Go enroll before you regret not getting one.
All of this is possible because the SAFe Agile Certification provides hands-on actionable learning.
Find Our Upcoming Trainings