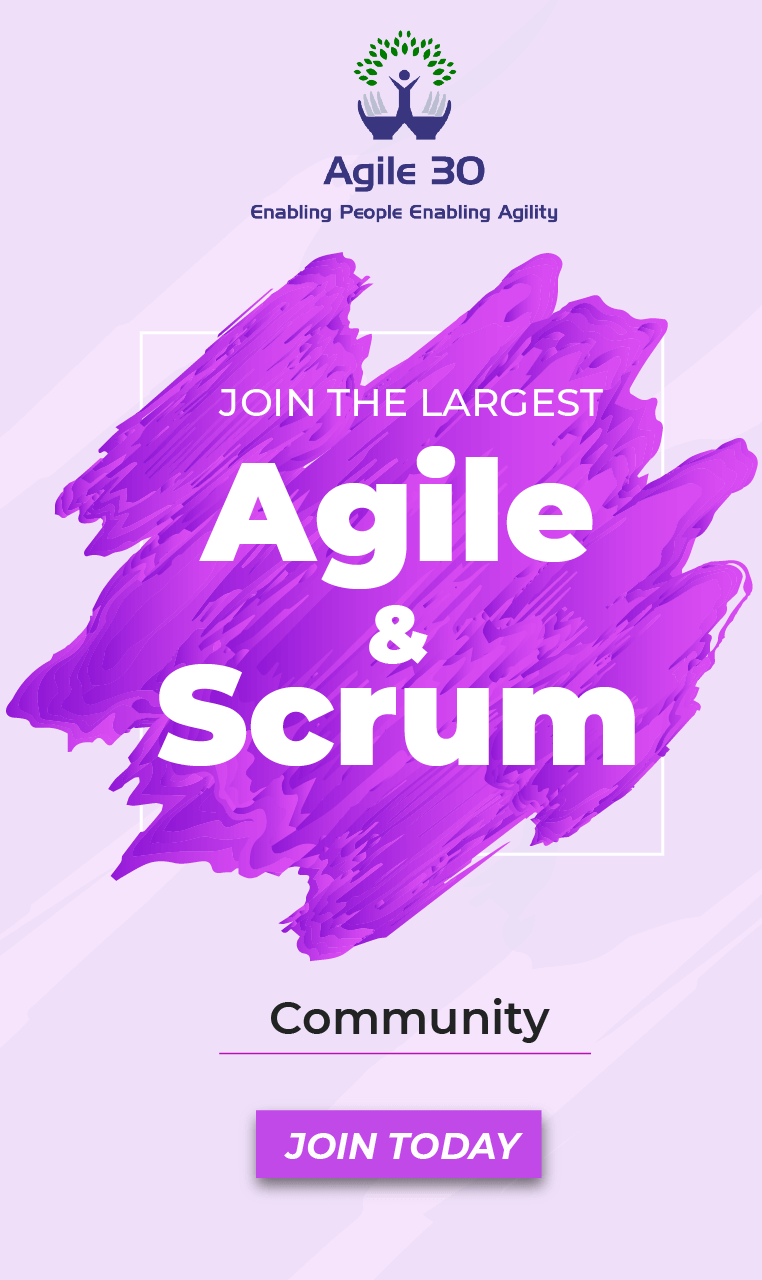 The world holds new surprises. The Covid pandemic just proved it.
The world is not static. It is evolving and that is making it competitive for businesses.
Customer demands are always changing. They want new products, services, and experiences all while expecting a high degree of social responsibility from businesses.
This has stirred up the topic of today's discussion- Business Agility. According to a Mckinsey Study, Business Agility affected the following outcomes-
20 to 30% increase in employee engagement
10 to 30% improvement in customer satisfaction
30 to 50% rise in operational performance
In case you are keen to know about Business Agility, this blog post will serve as a guide. Stay with us for the next 6 minutes and you will be amazed.
Watch out for the surprise for you at the end. Let's get started!
What is Business Agility?
Business Agility
is a group of organizational capabilities, behaviors, and ways of working that provides your business the freedom, flexibility, and resilience to achieve its core purpose.
It isn't enough when the software and IT team execute product delivery in an agile way. The entire organization needs to use lean and agile practices to deliver solutions faster than the competitors.
Simply put, Business Agility is the capacity and the inclination of an organization to adapt to, create and leverage change for the benefit of their customer.
Business is centered around 3 cornerstone principles-
Adaptability: Adaptability is the prime pillar of business agility. Your business should be able to modify its strategies in accordance with the situation in the fastest possible time. No organization or business is immune to volatile market conditions. They have to assimilate to the changing conditions at breakneck speed and rework changes in their products and services. With an Agile mindset, your organization will follow the agile way of working where change is possible due to flexibility. A rigid structure means the inability to change according to turbulent circumstances.
Customer Centricity: If you remember, customer benefit is the prime focus in the definition of business agility. While profit is the main motive, it shouldn't come at the expense of the customers. Customer satisfaction is of the principles in the Agile Manifesto. Remember, Customer collaboration over contract negotiations? Being responsive to your customers' needs even during challenging times is business agility.
Cross-Functional Association: Cross-functional association is fruitful when teams of different functions work together for the fulfillment of a common goal. The agile methodology promotes cross-functional association and its a success only when teams are on the page. Some of the challenges of cross-functional association are-

No goals or conflicting goals
Clueless about the other teams' projects and initiatives
Lack of understanding of your counterparts' roles, responsibilities, and expertise
Resistance to change
Interested in pursuing a career in SAFe? Leading SAFe is the way to go.
Why is Business Agility important?
Business Agility isn't a buzzword but a necessity given the fast-paced world.
There are 3 strong reasons why Business Agility should be your priority-
Customer is the focal point: When your efforts are focused on your target market, your efforts are more likely to bear fruit. The goal of delivering customer satisfaction and business value becomes easy when you know the customer persona. Understanding your customer through sales and marketing analytical data is a good starting point. Use this data with market research insights, demographic and ethnographic segmentation, and customer interviews can unearth a gold mine. Map your customer journey to understand the experience of your customer with your business. This will help in marking the interactions with your customers and their feelings and behaviour during each of these interactions.
Lightening Efficiency: Business Agility means responsiveness and adaptability to change strategy based on real time data and make changes on time.
Enhancing Productivity and Quality: Organizational silos are the number one impediment that hurts productivity. This is where structural agility, an operations domain of business agility, comes into play.
The value of stable teams in a knowledge working environment is high. Teams that are close-knit for extended periods of time tend to be high-performers. They are well aware of each other's strengths and weaknesses enabling quick delivery of value.
In comparison, new teams and shuffled teams perform poorly. This increases productivity and satisfaction resulting in renewed employee engagement. Since business agility frees up the clogged organizational structure, there's better business visibility which identifies the pain points and improves quality.
Prime Attributes of Agile Companies
There's one thing that separates the business agility-driven firms and the rest. Can you guess? It's the anatomy. To be more specific, there are six attributes-
Pragmatic Approach: Agility-driven companies are practitioners and have gained agile wisdom over the years. While they have a long-term vision, strategists are often short-sighted. Agile practitioners prefer application over planning. This ensures there is practical application and proactive customer feedback.
Customer-centricity: Since customers are jugular, agile organizations give importance to customer feedback and inputs during the production and post-production stages.
Transparency: Truly Agile organizations ensure visibility and transparency of the entire business. Nothing is hidden. They also encourage the exchange of ideas and cross-functional association. This enables faster correction of mistakes and correction on the go.
Quick decision-making: Agile organizations take decisions in a jiffy. They realise no strategy is foolproof and odds of failure are equally high. They are not afraid to take risks because delaying actions means chances are lost. The success of a product depends on the decision taken by the key decision-makers.
Democratic Leadership: Agile leaders give their team members autonomy. They don't micromanage and steer their team in the right direction. They convey the project vision and ensure all team members are aligned with it. Agile leaders have a high appetite for risk. That is what separates them from the mediocre ones.
Adoption of the latest technology: Decisions based on data are more likely to result in success. In a volatile business world, making data-oriented decisions that drive efficiency and quality need advanced analytical tools. Business Intelligence and data analytics tools can enable intelligent decision-making.
Challenges in achieving Business Agility
Business Agility is a marathon. Success isn't achieved in days, months, or even a year but in years. Giving up halfway means quitting. Minor setbacks are an opportunity to learn, unlearn, and course correct.
Here are some of the things that prevent business agility a reality-
Top-level management imposing new values and practices on new and underprepared workforce
Underplaying the longevity of the transformation process only to wrap it up faster, leaving no scope for learning and assimilation in an enterprise
Withholding of information by leadership personnel with regard to teams, final objectives, and associated business metrics and figures
Failure to evaluate the current state of working relationships at all levels in the enterprise. Scarcity of trust, psychological trust, and means for honest communication
Inability to admit that members' responsibilities will change including executives and management. This leads to shying away from conflict and addressing tough questions related to the necessary changes
Business Agility Success Stories
Let's see some case studies where business agility was used to improve operational efficiency and double their performance.
The credit for helping these organizations achieve business agility goes to scaledagile.com, the pioneer of the Scaled Agile Framework (SAFe).
Intel:
Intel was reeling under pressure to constantly innovate while controlling costs and maintaining quality. Using SAFe, Agile, and Lean, Intel adopted the following best practices-
Selecting the right RTEs: Intel discovered that successful RTEs have an amalgamation of technical background and seasoned Agile mindset and experience.
Train the leaders: Change starts from the top. Business leaders and Train managers should be mandated to attend SAFe training sessions. It's paramount that leaders speak about the transformation, act as role models, and envision a direction in the organization.
Prioritise Inspect and Adapt: Getting started instead of looking for the perfect strategy. Adapt later and give importance to progress over perfection.
Stick to the basics: Overcomplicating things will only lead to chaos. Always stick to the basics of Agile and Lean
Results
MVE produced 65% more products at the same capacity
Better Commit to Accept ratios from 74% to 90+%
There is high visibility
Scope change decreased to less than 5 percent
Air France KLM Group:
Airfrance decided to scale Agile practices throughout the organization. The goal was to improve time to market and efficiency but to adhere to various regulations and contexts in different businesses of the airlines. The aviation company implemented the following SAFe practices-
Concentrate on Transversal topics for a sustainable adoption: Include them from day one of the adoptions. These topics influence all domains.
Teams and domains should define objectives: Teams become more committed and empowered if they define their own goals.
Train constantly: The main team regularly conducts Agile Booster workshops to help with particular adoption challenges like dealing with conflicting priorities from both airlines and the meaning of developing an Agile mindset.
Results
SAFe teams made successful releases 17 times in live in 7 months in comparison to every 6 months previously
On average, SAFe units deploy 20% more successfully compared to waterfall teams
The aviation firm enjoyed 20% increase in market share in the small and medium logistics market alone
The organization surpassed anticipations by 25% in one of the offerings
The aviation company has a more concrete understanding of its customers
Proven Ways to boost your business agility
Business Agility is not an option but a necessity. Companies that don't innovate have been. While there were successful firms that were wiped off, there were others that stood the test of time all because of business agility. Here are proven ways to boost your business agility-
Convey its importance: The major problem that Agile leaders face is a lack of support from top management and members when it comes to business agility. Change is difficult hence people are resistant. Conveying its importance and benefits is the need of the hour.
Gather cross-association teams: Constant learning and linear improvement should be at the heart of an agile organization. Agile teams offer a 360-degree view of the process and its diverse aspects. Encourage open communication and healthy exchange of ideas to foster an Agile mindset.
Make swift decisions and smart resource allocation: Swift decision-making is the agile value. Some policies and regulations may pose a barrier to taking fast decisions. It affects work-to-values. Modify your work process and make changes as necessary. Also, factor in the costs when it comes to decision-making.
Myths Regarding Business Agility
Like everything that is popular, business agility too has its fair share of myths. Let's take a look at them one by one.
Agility is all hype: Agility has been proven to drive results. Its ability to induce value has been subjected to a litmus test and has emerged the victor. It has been made part of agile guides and playbooks.
Agility is only for IT or Product Development: Agile transformation can begin at an overall organizational level. Agile is known to benefit some functions as compared to others. Prioritize which function needs an agile makeover because it needs industrious efforts.
Agility has size fits all approach: Agile should not be applied casually. Organizations should identify the flaws and determine if agility is the answer.
Agility is another synonym for productivity: Speed and adaptability are the key benefits. Improved speed, mobility, and refined employee engagement positively affect output. Agility will help commandeer the organization towards a pedestal. It also helps in enticing talent and better the vigor of the organization.
Agile transformations take 6 months: The biggest myth that is doing rounds everywhere is that organizations can be transformed in just 6 months. That's far from reality. It takes around 1-3 years but the initial benefits start appearing where there are agile foundations and pilots. A full-scale Agile transformation takes a couple of years and Agile practices change over time.
Conclusion
Business Agility is a patient process. As an organization, you have to evaluate its needs, benefits, challenges, success stories, and importance. Most of all don't fall for myths.
Do your research and if you can't make a decision, then give a call to the experts. Agile practitioners with decades of experience will help find problems that ail your organization and suggest solutions.
Winding up, Agile Transformation is a marathon and not a sprint. There is no quick fix or Midas touch but in the end, the results are sustainable.
Find Our Upcoming Training