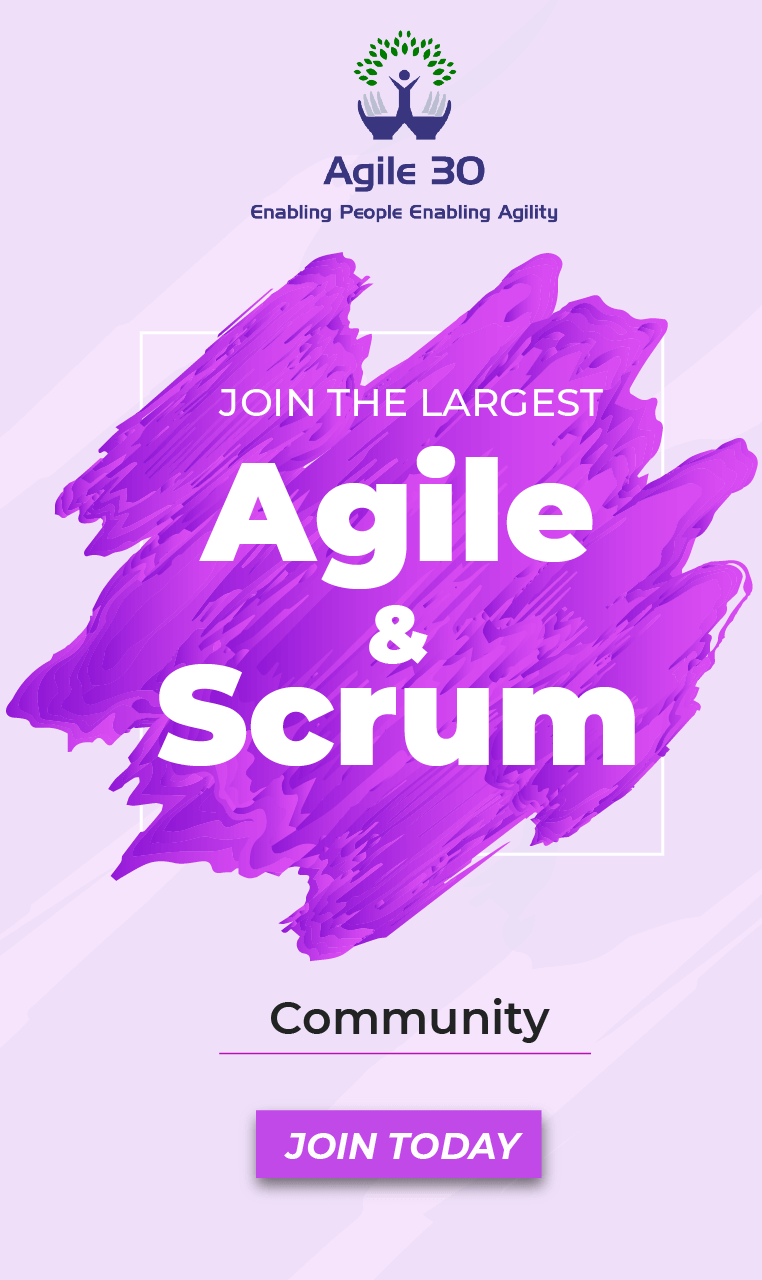 What is an Agile Coach?
An Agile coach is responsible for Agile transition/transformation within teams and an organization. Agile coach gets identified or hired while transitioning from their existing working practices, such as Waterfall, into working with the Agile values and principles. They usually have much experience with different Agile methodologies, such as Scrum, XP, Kanban, Large-Scale Scrum, and
Scaled Agile Framework
.
They are generally proficient in coaching and mentoring and can guide and help people figure out the right solutions for their challenges.
Why should an organization adopt an agile way of working?
Compared with traditional management approaches, agile offers several significant benefits. Agile promotes self-management, and self-management increases productivity and satisfaction among staff. Agile is inspired by lean thinking that minimizes waste. An agile way of working improves visibility and helps in continually adapting to customers' changing priorities. Agile enhances customer engagement and satisfaction, brings the most valuable products and features to market faster and more predictably, and reduces risk.
Difference between Agile and Scrum?
Agile is a set of values and principles to respond to change faster while developing a product. Scrum is a framework to apply all these values and principles. Scrum has been around since 1995, although it gained more popularity in the last 10-12 years as many organizations get attracted towards it after the 2008 financial crisis. Agile manifesto was written in 2001 by 17 software professionals and brined all popular empirical approaches under a single umbrella to develop software products.
Scrum is not the only way to adopt these values and principles but most popular on the name agile methods. There are others like Extreme Programming, Large-Scale Scrum, Scaled Agile Framework, and Lean Software Development.
What are the top 5 challenges while transitioning to agile?
Here are some common challenges faced by corporate while transitioning to agile.
• Lack of agile knowledge: Resistance from the employee due to lack of knowledge and benefit that agile brings to them.
• Cross-functional team: Cross-functional team formation is challenging in many organizations as employees have worked in a single function for a long time.
• Self-organization: This is also due to habit as employees have been in command and control conditions for a long time.
• Ownership: Lack of support from senior management, as many still believe it is a job for IT.
• Lack of Agile Coaches: Successful transition needs support from experienced agile coaches. Lack of agile coaches or inexperienced agile coaches takes more time than expected.
What types of strategies have worked well for agile transformation?
There are no such studies that can determine a single successful way to transition to agile. However, there are various case studies available that talk about top-down strategy and bottom-up execution. These studies also discuss the need for a fair amount of coaching and long-term mentoring program during transition.
What role management play during the agile transition?
Management leads such change by supporting change agents such as agile coaches and scrum masters. These change agents encounter various organizational impediments, and management contributes to resolving them as early as possible. Support from management is crucial for a successful transition.
Why do we need an Agile Coach?
Agile is easy to narrate but hard to practice, resulting in many leaders running into problems when switching from a traditional approach to an agile-based approach. Most of these problems come due to unrealistic expectations of how easy it is to implement Agile within a team, department, or company. Agile coaches are there to help transition, supporting during the initial period and coaching, the organization supports high-performing teams.
Key differences between an Agile Coach and a Scrum master?
The most significant differences are the level at which the two are operating, single team vs. enterprise. A Scrum Master works with ONE or a limited team and influences those teams concerning scrum values and principles. An Agile Coach works with multiple IT or business areas, executives, including middle management and senior management, influencing them on an agile way of working.
What is Agile Coaching?
Agile coaching
is a craft intended to guide others in understanding, processing, and embracing constant change to ensure change is sustainable, lasting beyond the individuals.
What are the differences between coaching and mentoring?
Mentoring is a long-term process based on mutual trust and respect. Coaching, on the other hand, is for a short period. Mentoring is more focused on creating an informal association between the mentor and mentee, whereas coaching follows a more structured and formal approach. Coaching helps the coachee's performance get better going forward.
How is Agile coach help creating a high motivated self-organize team?
One way to motivate any team is to empower that team to control their work where they own it and are self-governing. Daniel Pink has described well in his book Drive. He has highlighted the importance of Autonomy, Mastery, and Purpose. We often refer to another term called intrinsic motivation, and coaches can help unlocking intrinsic motivation but most often, suitable organizational design and systems help there.
How Agile Coaches build trust with the team?
Work with a team over time. Trust is not something established quickly. It can be quickly lost but not so easily gained. However, that does not mean it cannot build quickly too. Transparency at work, actions, and the result usually help in building trust. Authenticity plays a significant role, so is ethics.
How could Agile Coach manage to take management in Agile journey?
Agile Coaches work with leaders in setting goals for the agile transition. Without purpose, any change will fail. It is something that the most successful companies and teams practice to be successful. It is not about taking management on an agile journey, but the journey starts when management takes the first step by setting goals and committing to them.
As an Agile Coach, how to approach an Agile-resistant environment?
Being a coach, one should not be judgmental. There must be some reasons behind that resistance, and it is the job of an agile coach to uncover those reasons to facilitate change.
How does an Agile Coach help employees in adapting to Agile?
Teaching, mentoring, and coaching becomes essential tools for an agile coach while helping employees transition from Waterfall to agile.
Teaching: Agile coaches must know how to teach a new skill/subject to an adult. Brain-based teaching has gained significant recognition, so knowing something like this helps facilitate new learning become handy for agile coaches.
Mentoring: Teaching helps introduce new learning, but mentoring help transition to a new set of practices. Mentoring can be long-term or short-term, such as speed mentoring.
Coaching: Self-doubt, conflicting priority and lack of self-awareness lead to demotivated employees. Good coaches know how to shift thinking through fruitful conversations that include powerful questioning, active listening, and feedback.
Find Our Upcoming Trainings