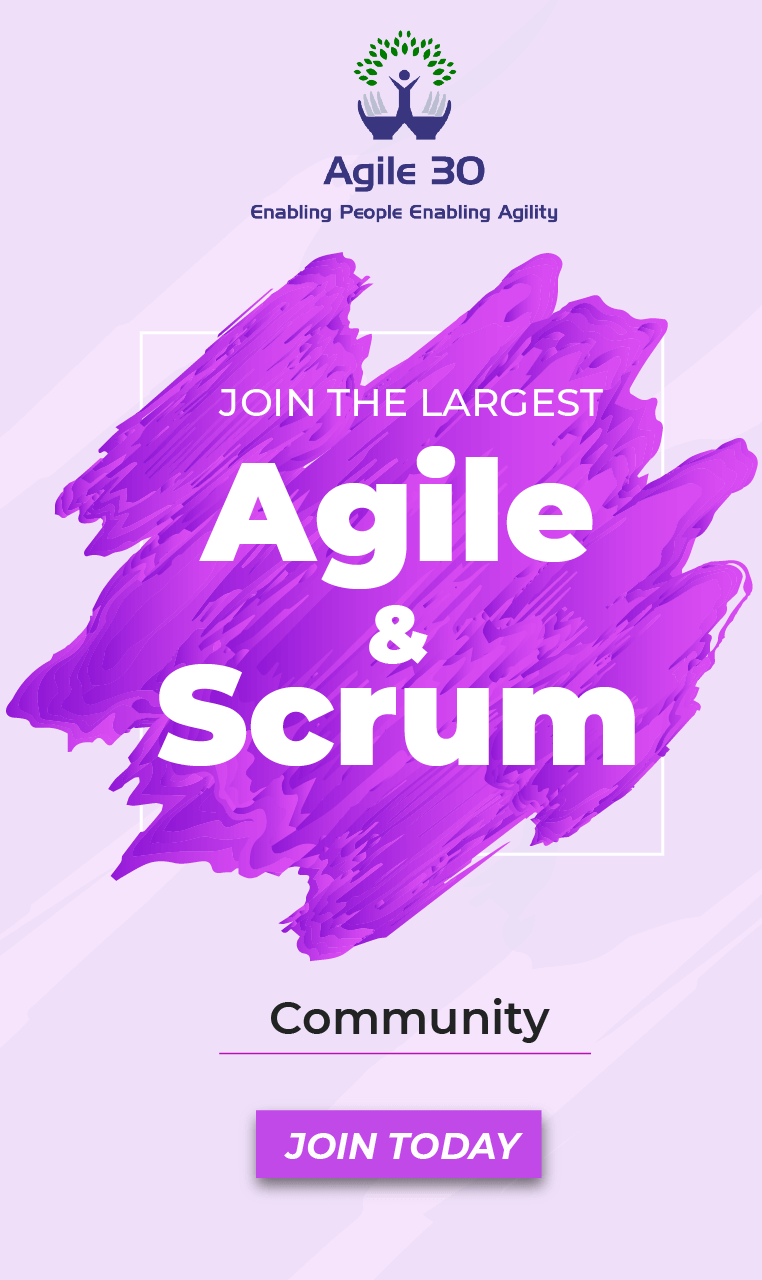 Agile product management is the most preferred approach to developing new products, services, or solutions. It should come as no surprise since the Agile adoption rate increased from 37% in 2020 to 86% in 2021.
The 15th State of Agile Report revealed the benefits of Agile adoption, including increased productivity, managing changing priorities, improved delivery time to market, managing distributed teams, and much more. How does agile adoption start? Does it begin with the process, tools, or people? The answer is not one. It's all three. And, how do you start learning Agile?
Through Agile certifications! That's the magic word. Today's blog post discusses the benefits of Agile Certifications and how they help but only after a brief introduction to Agile. Off we go!
What Is Agile?
Agile is an adaptive approach to solving complex problems like developing new products, launching products in new markets, and designing customer-centric solutions and services. Agile follows an iterative process that builds a product in increments from the start till the completion of the business objective.
Team figures out the most valued work items to build first that can help them to learn customer behavior as early as possible to reduce risk. Feedback from customers helps in amplifying the learning and doing the right things.
You might be interested in reading: The Definitive Guide to What Is Agile and Scrum
And Why Is Agile Adoption On The Rise?
As per the
15th State of Agile Report
, the respondents stated the following reasons to adopt Agile-
64% cited Enhance ability to manage changing priorities

64% stated Accelerate software delivery

47% opined increased team productivity

47% said Improved business and IT alignment

42 % voted for Enhance software quality

41% reported delivery predictability

39% said Reduce project risk

39% cited responded to volatile market conditions

24% opined Better management of distributed teams

23% reported reduced project cost
Popular Agile Certifications
Since most teams start with Scrum so here is a list of popular Scrum certifications to adopt agile ways of working -
1. Scrum.org
is one of the prominent certification providers in agile product development. It is the home of Scrum. Ken Schwaber founded Scrum.org to provide solutions to solve complex problems. It teaches Professional Scrum through certification training and courses. In addition, the Professional Scrum Trainers or PSTs provide hands-on, real-world learning.
It provides various certifications but I am listing here a few most popular -
2. Scrum Alliance
Founded in 2001, Scrum Alliance was the first to offer a Scrum certification. To date, it has 1,082,451 certificate holders. The brainchild of Jeff Sutherland and Ken Schwaber, Scrum Alliance is the only member-driven nonprofit certifying body in the agile space.
Here are the popular certification offered by Scrum Alliance-
3. Scaled Agile
The Scaled Agile Framework (SAFe) has been the go-to framework for scaling agile and business agility. Scaled Agile is the accreditation body for SAFe.
It offers many certifications but the most popular is
Leading SAFe Training with SAFe Agilist Certification
. This is ideal for anyone who wants to start a career in SAFe.
Benefits of Agile Certification
The benefits of Agile certification apply both to the individual and the organization. Since individuals seek career benefits, let's look at the individual benefits.
Breaking down the Individual Benefits of Agile Certification
1. Career advancement-
Agile is for software development, product development, and project management so you must consider upskilling if you belong to any of these fields irrespective of the business domain.
Since Agile adoption is on the rise, Agile certified professionals get more interview calls and job offers than non-certified peers. Along with increased salary, an agile certification opens up many job opportunities such as agile coach, agile scrum master, and agile project manager.
2. Gain credibility- The industry is wrought with self-proclaimed agile professionals who are not certified. Hiring managers and recruiters consider agile certification as an X factor. It is a testament that you have the knowledge and expertise required to use Agile methods and techniques. This certifies the skill of an individual.
3. Update your knowledge- The world is constantly evolving, and so is Agile. Things that are relevant today become obsolete tomorrow. As an Agile professional, you need to upskill and learn new trends. Agile certification is a sure shot to help you evolve as a skilled individual.
4. Develop Agile leadership skills- The key trait of an Agile professional is agile leadership. An agile professional is responsible for managing and leading the team in an organization. An agile certification will help you to understand how to lead teams in an ever changing world.
5. Hands-on learning- The agile certification training workshops are usually 2 days and cover the agile practices, tools, and strategies in detail. You will learn all of them through hands-on learning. This will help implement them better in your organization.
Recommended reading: What Is Agile Training and Why Agile Scrum Should Be Your Next Career
Agile Certification Benefits For You And Your Organization
If Agile certification can help individuals, even organizations stand to gain the benefits of Agile certifications. Here are the organizational benefits-
1. Ensuring value delivery- The purpose of Agile frameworks is to deliver optimum value in the product development cycle in each iteration. Agile adheres to a specific set of guidelines and processes that need to be followed. Agile certification training helps organizations maintain consistency while delivering value.
2. Better adaptability to changing environments- Agile is iterative, which means it can adapt to changes easily without much resistance. An agile certified professional will help organizations undergo agile transformation irrespective of the circumstances.
3. Judicious management of cost, time, and employees- Agile teams consider the strengths of the employees and assign responsibilities. This helps set realistic and attainable goals. Late deliverables are avoided, and the deadlines are met, which is critical for project success. Sticking to a timetable ensures that project delays don't incur additional costs Agile helps in judicious management of cost, time, and employees.
4. Enhanced communication- Agile certified professionals will be able to ensure a free flow of communication between team members. This results in better collaboration with other meetings. Agile professionals will be able to monitor the progress of all projects. Agile teams will conduct daily meetings regularly to discuss the meeting tasks.
Top Reasons To Become An Agile/Scrum Certified
Becoming Agile and Scrum certified will help you gain access to the following privileges that are available to only a select few. How is it?
Agile and
Scrum certifications
are accredited by globally recognized agile certifying bodies.
Here are the exclusive reasons to become an agile/scrum certified-
Career growth-

Stay abreast of the latest trends in the industry. Gain the necessary knowledge and skills to become the most sought after in the industry

Connect, network, and grow with a community-

Learning should go beyond your certification training. You can join communities and learn from experts and contribute your learnings.

Special access to a library of resources -

You will have unlimited access to a library of resources created by experts that include videos, articles, and webinars to help to work using Agile and Scrum.

There's a bonus resource consisting of member-only templates, activities, and evaluation tools to track and enhance your organization's agility.
Be a part of global events-

You will get to be a part of global events, offline and online, where a global community will support you and encourage everything agile and scrum. You will be offered discounts where you will be meeting and learning from fellow agile practitioners.

Contributing to a mission fueled the movement-

Become a part of a community that supports united success. You will help support local user groups, sponsor events, and build groundbreaking campaigns.
Bonus Reading: Understand Agile Methodology: Roles, Components, and Phases
Why Choose Agilemania As Your Training Partner
Agilemania is a team of like-minded Agilists that has over the last few years grown to be synonymous with exceptional services and is the most trusted vendor for Agile Consulting, Training, and Advisory services in South and South-East Asia.
Agilemania was never built to be the typical consulting or services company but as a home for highly-skilled practitioners with diverse experience and a deliberate focus on helping organizations achieve hyper-performance. The fact that multiple Agile bodies accredit the team at Agilemania is a testament to our continuous investment of time and effort in honing their skills to connect and serve their clients in the best possible ways.
Find Our Upcoming Training