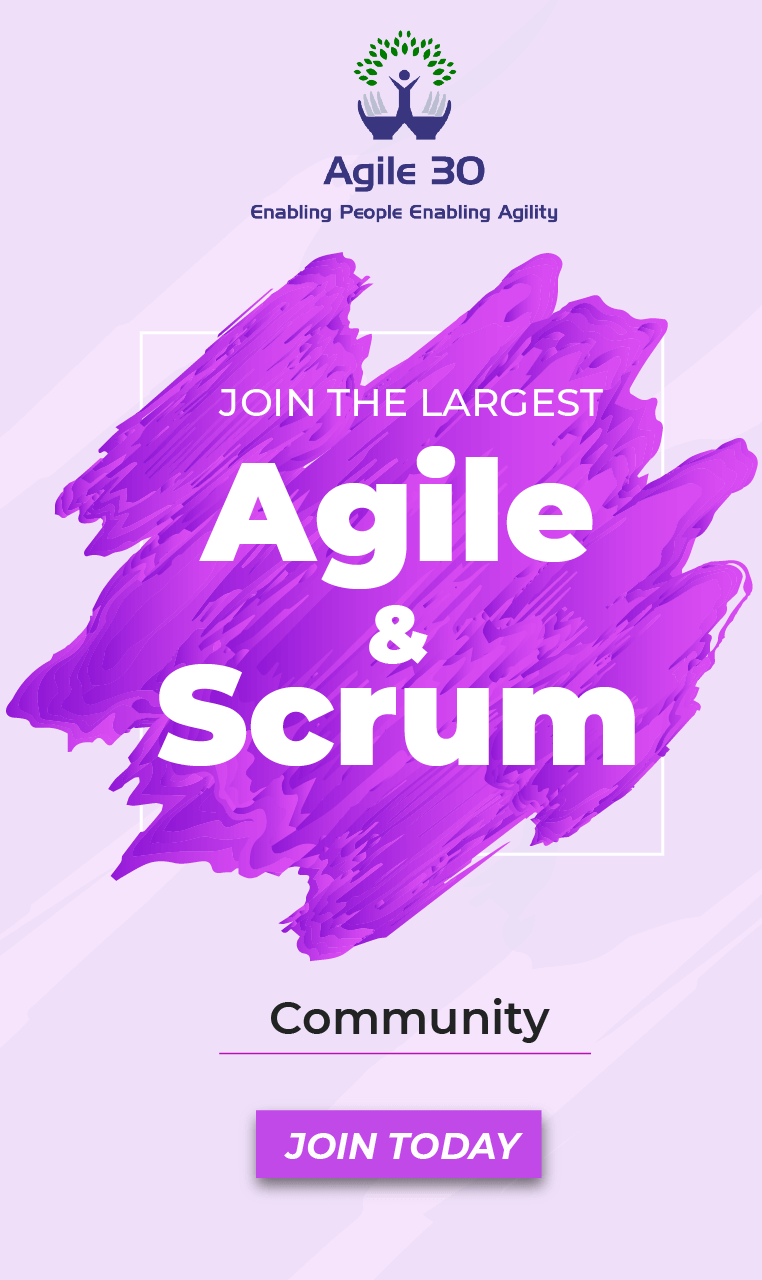 Scaling the Mt. Everest is certainly not for the faint-hearted. How much preparation does it take to achieve this feat?
Does it take days? No
Months? Not a chance
A year? Probably
Years? The odds are higher
The long hours of hard work pay off.
Today, we at Agilemania are proud to share that we have become a Scaled Agile Gold Partner. Since our inception in 2014, we have been constantly exceeding expectations and delivering value.
This win is a testament to the quality of services that we deliver.
Why Scaled Agile Framework?
It is the Framework of Choice for Leading Organizations to scale agile.
The year 2011 saw the Arab Spring and that sent shock waves throughout the world. At the same time, large organizations needed an Agile framework to design quality systems and software that caters to the ever-changing needs of customers.
Dean Leffingwell and Drew Jemilo invented the framework which is now known as SAFe.
Fast forward, a decade later, SAFe® had become a celebrity among the agile frameworks.
The 15th State of Agile Report published the following findings-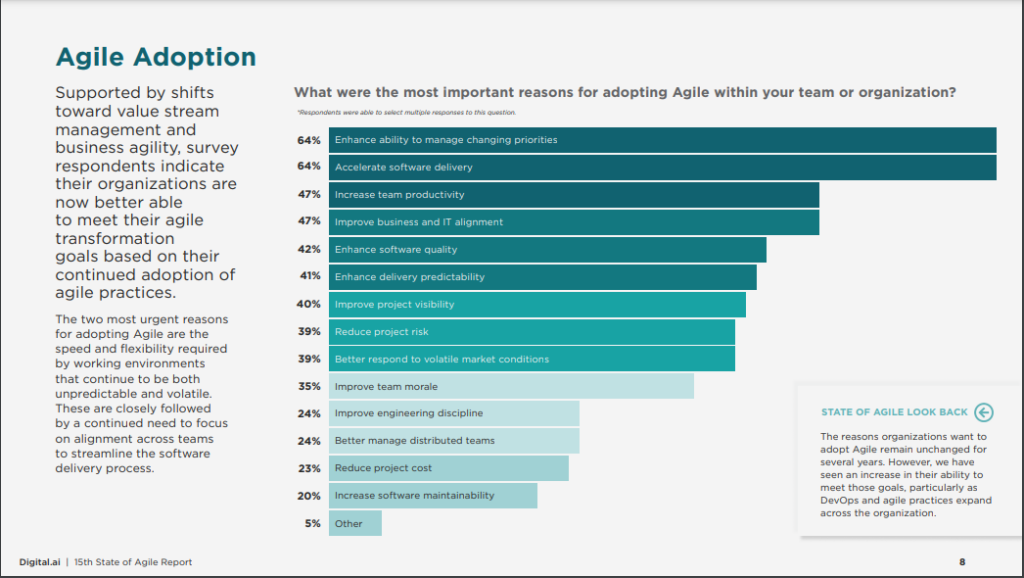 The key reasons to adopt Agile were the following-
64% reported an enhanced ability to manage to change priorities
64% stated accelerating software delivery
47% indicated team productivity
47% claimed IT and business alignment
39% reported better responses to volatile market conditions
And, this is the reason SAFe has risen in popularity in the past decade. 37% of the respondents reported that their organization has adopted SAFe as the scaling framework.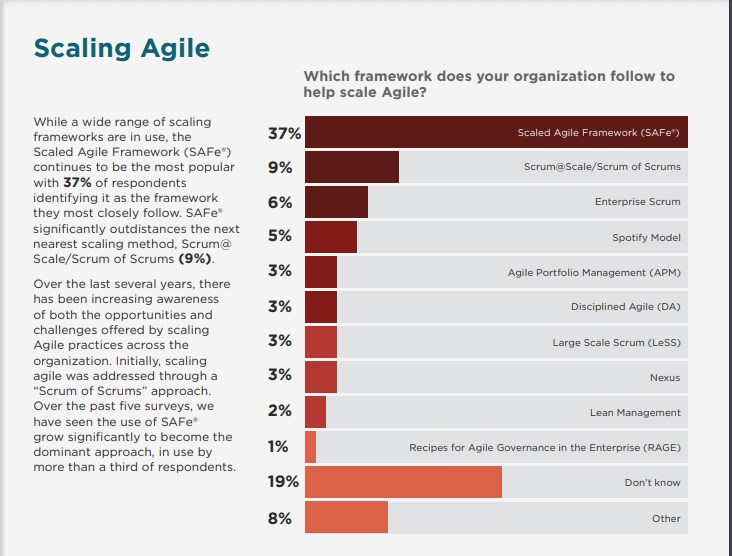 There's your answer as to why SAFe has become the go-to agile scaling framework for large organizations.
Road to Becoming a Scaled Agile Gold Partner
The journey in SAFe began by offering 9 SAFe courses-
Leading SAFe 5.1
SAFe Product Owner/Product Manager (POPM)
SAFe Lean Portfolio Management (LPM)
SAFe Scrum Master (SSM)
SAFe Advanced Scrum Master (SASM)
SAFe Agile Product Manager (APM)
SAFe Program Consultant (SPC)
SAFe DevOps Practitioner (SDP)
SAFe Architect (ARCH)
And after 2555 days of relentless grind and touring 6 countries later, we finally became the Scaled Agile Gold Partner.
The business world is getting ultra-competitive today and that requires organizations to be proactive at all times. With the pandemic looming large and the entire world going remote, it is necessary to adopt a scaling framework like SAFe.
The adoption of lean-agile practices ensures that there is collaboration, coordination, and communication between cross-functional Agile teams. In the 15th State of Agile Survey, the following stats came to light-
A minority of 3% planned to return to the office full time
25% of the respondents opine that they'd work remotely in the post covid world
56% preferred a hybrid, switching between remote work and office regularly and not daily
Our recognition as a Scaled Agile Gold Partner is a testimony to our unwavering commitment to helping organizations achieve business agility and lean agile transformation.
Scaling Mt. Everest isn't a solo feat. It requires the help of Sherpas. Our coaches are our Sherpas. They have taken great pains to get Agilemania to its peak.
Our goal is to understand the pain points of the organization and ensure organizations and individuals are trained in scaling agile from the primitive stage to the advanced stages of enterprise growth. Our SPCs have extensive experience in consulting organizations.
They work with organizations and help with designing SAFe implementation, developing transformation plans, launching ARTs, and much more. This milestone wouldn't certainly be possible without our SPCTs. They deserve applause for coaching, training, and mentoring the SPCs.
They are SAFe practitioners who have first-hand experience in industries of all sizes and natures. We pride ourselves in dedicating our expertise to facilitating organizations in the smooth adoption of SAFe. We as an organization believe that organizational transformations happen when the innate structure is solidified.
It isn't the tools but the right guidance is the way to realize the dream of Lean-Agile transformation.
Architects Behind Our Success
The architects of our success story are our coaches. What started as a side hustle is now the most trusted vendor for Agile consulting, Advisory, and Training services in South and South-East Asia.
Our coaches have been instrumental in the Agile transformation of leading companies in Banking & Insurance, Manufacturing, Retail, Electricals, FMCG, Oil & Gas, Auditing, and many more.
With 20+ years of experience in Agile transformation under their belt, they know their craft backward and forwards.
The credentials of our esteemed team of coaches include Professional Scrum Trainer (PST) from Scrum.org, LeSS Friendly Scrum Trainer, Certified Enterprise Coach (CEC), SAFe Program Consultant (SPC) or ICAgile Accredited Trainer training in India, Singapore, Malaysia, Hong Kong, Philippines, Indonesia, Vietnam, and Thailand.
How can we help?
Organizations have been facing a slew of Agile challenges in the past decade. They have been grappling with these challenges but are unable to reach a solution.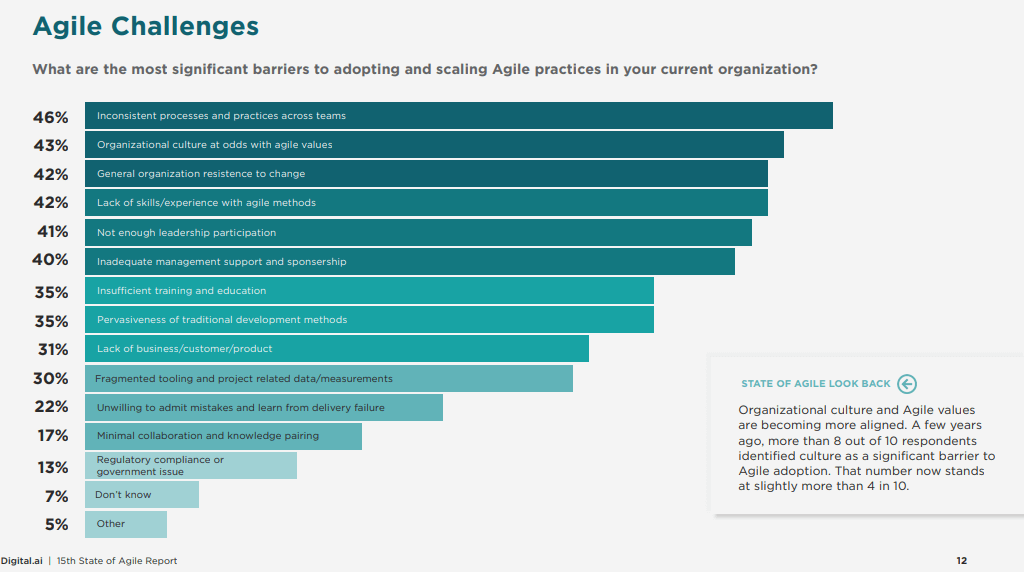 The 15th State of Agile Survey reported the following findings-
46% of the organizations reported they are inconsistencies in practices and processes
43% attributed cultural clashes
42% gave the reason that general organizational resistance to change
42% stated that lack of experience and skills
41% proclaimed the absence of leadership to be the main problem
And, lastly, 40% indicated Inadequate management support and sponsorship
We can help your organization resolve these colossal problems through a pragmatic approach and facilitate easy Agile adoption.
About Agilemania
Agilemania a team of a small
group of like-minded Agilists
, has over the last few years grown to be synonymous with exceptional services and the most trusted vendor for Agile Consulting, Training, and Advisory services in South and South-East Asia.
Agilemania was never built to be the typical consulting or services company but as a home for highly-skilled practitioners with diverse experience and a deliberate focus on helping organizations achieve hyper-performance.
The fact that multiple Agile bodies accredit the team at Agilemania is a testament to their continuous investment of time and effort in honing their skills to connect and serve their clients in the best possible ways.
Largest Agile & Scrum Community Run by Agile 30 Group
An organization will certainly not make it past the finish line with its community of employees and customers. Our
Agile30 is a community
of agile enthusiasts from the agile product development field.
The prime members nurse an ambition to become Agile Coaches and trainers. Our Agile community is 20,000+ members strong and counting. Agile 30 is a Scrum Alliance user group managed by Agilemania.
We've meetup groups in Mumbai, Hyderabad, Delhi NCR, Pune, Chennai, Malaysia, Bangkok, Singapore, Kolkata, and Bengaluru. We've another community solely dedicated to SAFe® called SAFe Thursday.
SAFeThursday is an initiative by Agilemania to invite all SAFe enthusiasts and practitioners who're willing to share and learn the SAFe best practices, principles, and knowledge.
Conclusion
The journey to becoming a
Scaled Agile Gold Partner
was fraught with challenges. Given the pandemic, the goal seemed impossible but thanks to our hard work as
a close-knit unit
, we've added another feather to our cap.
This is just the beginning of more accomplishments. Thanks to all our coaches and community for making this happen. Until next time.
Find Our Upcoming Training