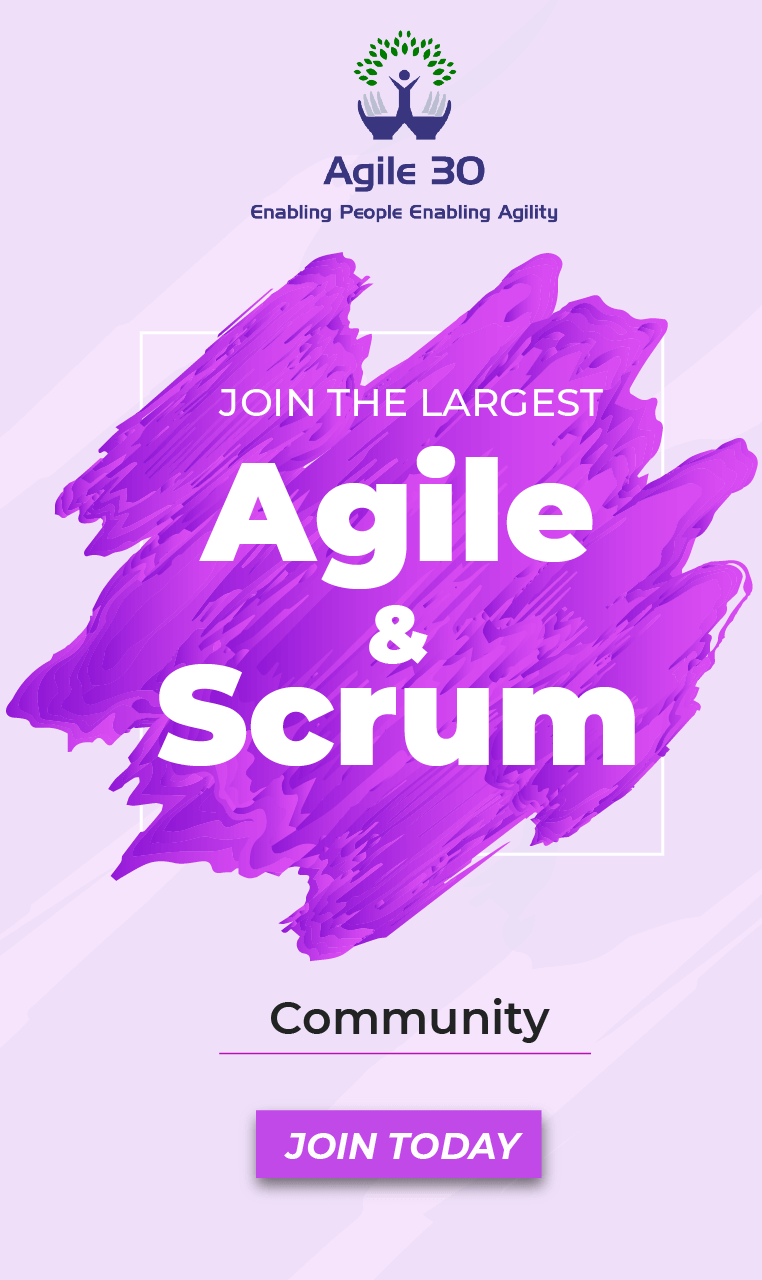 Large organizations need to be incredibly dynamic and results-driven to maneuver the fast moving market. Challenging times demand challenging measures. Added to this is the complex problem of managing multiple agile teams.
Sounds too common?
This problem isn't limited to one organization. It's faced by many organizations but only a few seek help. The question still stands as to how to make an organization agile so that different functions within the organization can work together and not in silos?
How can they serve the customers better?
It was, for this reason, Dean Leffingwell decided to conceptualize SAFe® in 2011. SAFe® is a knowledge base of proven, integrated principles, practices, and competencies for achieving business agility using Lean, Agile, Systems Thinking, and DevOps. It is a set of knowledge that has structured guidance regarding roles and responsibilities, work planning and work management, and core values.
SAFe® has found takers in large organizations like FedEx, Chevron, American Express, and has accomplished remarkable results. Widely adopted frameworks mean tons of opportunities with high pay and career growth.
As a manager or a leader, getting started in SAFe® is not as complex as it seems. The door to a career in SAFe® opens by becoming a SAFe® Agilist. Hop on and let's delve into the topic to know all about SAFe® agilist.
Who is a SAFe® agilist?
A SAFe® Agilist leads a Lean-Agile Enterprise with the help of SAFe®. The underlying principles originate from Lean thinking and Agile Development, product development flow, and DevOps.
A SAFe® Agilist applies Lean, Agile, and the Product Development principles to increase productivity, employee satisfaction, time to market quality.
As a SAFe® Agilist, you should understand the interaction between Agile teams, Agile programs, and Agile Portfolio Management.
Leading SAFe® is based on the principles of SAFe® derived from Lean, systems thinking, agile development, and product development flow.
Recommended reading: How to get SAFe® Certified
Why Should You Become a Certified SAFe® Agilist (SA)?
A SAFe® Agilist has the insights to transform your agile product management.
They are also aware of how to transform agile portfolio management into a structured organization that delivers a continuous flow of value to your stakeholders and customers with the shortest possible time to market.
A SAFe® Agilist applies their knowledge of SAFe®, lean thinking, and product development flow principles in an enterprise context so that they can spearhead the adoption of SAFe®.
Responsibilities of a SAFe® Agilist
Planning and Execution of Program Increment:

A SAFe® Agilist has envisioned a roadmap for the success of the Agile Development and successful SAFe® implementation process. They start strategic planning as a lead which sets the plan for the Development team to realize the goal of becoming an Agile organization. They also plan and implement the incremental values through Program Management.

Planning and execution through Agile Release Trains

Agile Release Trains is a virtual organizational construct team for common technical and business goals. An Agile Release Train is a cross-functional team of 50-125 members that work together towards achieving a common goal. A SAFe® Agilist ensures that the planning and execution through ARTs are done effectively. Some of the responsibilities of a SAFe® Agilist include fixation of schedules, timely increment in systems, applying the synchronization, adoption of Agile and SAFe® core values, face-to-face planning, innovation, and planning.
Vision and Implementation of the Lean-Agile Principles
SAFe® is based on the following 10 Lean Agile Principles-
1. Take an economic view:

Having an economic view is essential to be able to deliver the best value and quality in the shortest time. It takes a fundamental understanding of the economics of building systems. The decision of strategizing for incremental value delivery and wider economic value stream. It emphasizes the trade-offs between risks, Cost of Delay (COD), manufacturing, operational, and development costs.

2. Apply Systems thinking:

To solve problems in the workplace, a concrete understanding of systems that workers operate is required. Systems are complicated and they consist of intertwined components. In SAFe®, the principle of systems thinking is applied to the system under construction as well as the organization.

3. Assume variability and preserve options

Conventional design and life cycle practices encourage selecting a single design and requirements option early in the development process. The starting point should be good otherwise problems will arise in the future. An optimal approach would be to maintain multiple requirements and design options for a longer period in the development cycle.

4. Build incrementally with fast integrated learning cycles

Building products in short sprints or iterations paves for quicker customer feedback and mitigates risk. Each increment is a continuation of the previous sprint.

5. Fix milestones on an objective evaluation of working systems:

Business owners, key decision-makers, and customers have a combined responsibility of ensuring that an investment in a new solution will reap economic dividends. When it comes to Lean-Agile Development, integration points provide objective milestones at which to assess the solution throughout the development life cycle.

6. Visualize and limit WIP, reduce batch sizes, and manage queue lengths:

Lean organizations strive to achieve a continuous state of flow. Here's how you can implement the flow-

Visualize and cut the amount of work in progress (WIP). This elevates throughput and limits demand to actual capacity.
Decrease work batch sizes to enable fast and reliable flow.
Handle queue lengths to reduce the wait times for new functionality.

7. Apply cadence, synchronize with cross-domain planning

By applying cadence, predictability is created and sets the tempo for development. Synchronization ensures that multiple perspectives can be comprehended, resolved, and integrated together. Applying development cadence and synchronization along with periodic cross-domain planning supplies the mechanisms to operate efficiently.

8. Unlock the intrinsic motivation of knowledge workers

Top-notch Lean-Agile leaders understand that ideation, innovation, and employee engagement do not stem from incentives and compensation. Individual incentives are unhealthy for organizations because they foster internal competition. Provision of autonomy, decreasing hurdles, and creating an environment of mutual learning will increase employee engagement.

9. Decentralize decision making:

Only decentralized decision making will help organizations achieve fast value delivery Only then the outcome will be the following-

Reduced delays
Improves product development flow
Enables quicker feedback
Creation of innovative solutions

10. Organize around value:

The majority of the organizations still function with principles which are from the medieval age.


Only long-term competitive advantage can help you achieve customer-centricity and cater to the ever-changing needs of customers.


This is why Business Agility is the need of the hour so that they organize around value and deliver quickly.
How can you become a SAFe® Agilist?
The first step is to pursue Leading
SAFe® Training
. This is a mandatory step because it enables a deeper understanding of SAFe® and allows you to access the study materials to pass the exam.
The course objectives are as follows-
Apply SAFe® in an enterprise context to enable continuous exploring, integrating, deploying, and releasing values.
Enhance Lean-Agile leadership skills and help cascade Lean-Agile Mindset and principles across the organization.
Enable Lean-Agile transformation at the enterprise level to achieve business agility.
Coordinate the development of large solutions by improving communication and collaboration across all projects.
Empower with a Lean Portfolio and apply Agile across the organisation, not just to the IT delivery teams.
You might be interested in reading: How to pass your SAFe® exam
Who should pursue the course?
The Leading SAFe® Agilist 5.1 Certification course is for anyone involved in product and solution development at scale using Scaled Agile Framework® (SAFe®). It is particularly beneficial for:
Change agents
Executives up to management level
Project leader and program manager
Product manager and product owner
Agile enthusiasts
Course Topics
Digitization with Business Agility
Becoming a Lean-Agile Leader
Establishing Team and Technical Agility
Building Solutions with Agile Product Delivery
Exploring Lean Portfolio Management
Leading the Change
Practicing SAFe®
Conclusion
As per the
State of Agile Report 2021
, SAFe® is fast becoming the most preferred Agile framework with 37% of the organizations adopting it.
With organizations looking to solve problems with multiple teams, SAFe® is becoming a financially rewarding career option.
Leading SAFe® certification training is the primary step. SAFe® practitioners are in demand. Start with SAFe® Agilist and you will climb your way up the SAFe® Learning Path.
Interested or have some doubts?
Contact Us and we shall be happy to help you.
Find Our Upcoming Trainings