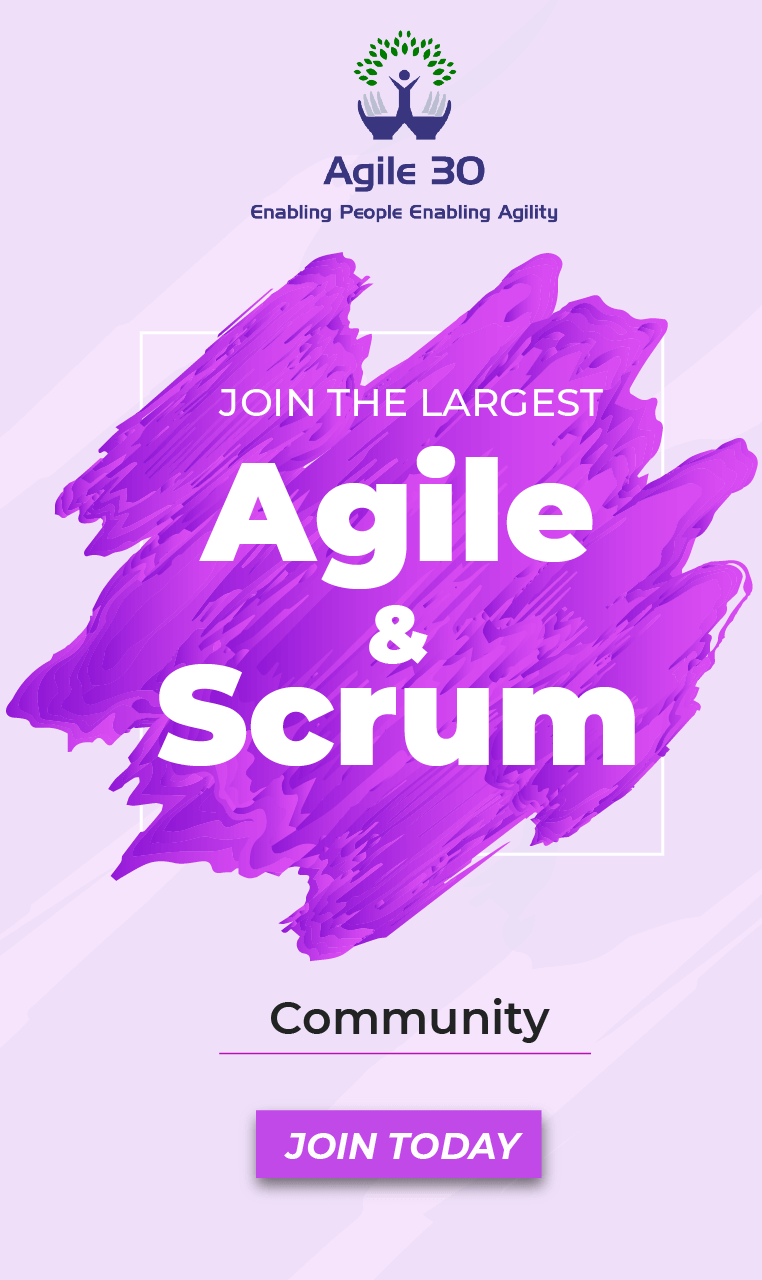 Agility at scale topics appears in most of the conversation nowadays, either to solve multiple teams' coordination issues working on the same initiative, in the name of business agility, or enterprise agility.
There are numerous frameworks those claim to solve or provide solutions for agility at scale. Do they all retain core values even at scale? Let's try exploring what do they offer.
Brief about all popular scaling frameworks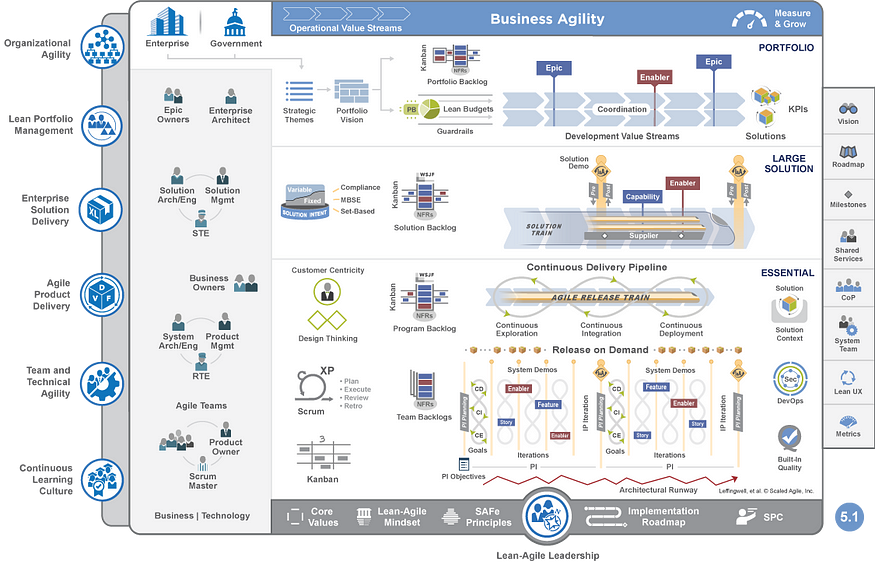 Scaled Agile Framework® (SAFe®): SAFe® was created by Dean Leffingwell and has been in existence since 2011. It has gone through 5 major revisions besides multiple minor revisions so far.
The current version is SAFe® 5.1, which got revised in February 2021. It has four constructs — Essential SAFe, Large Solution SAFe, Portfolio SAFe, and Full SAFe. It would be best if you had either a portfolio or full SAFe to achieve business agility through SAFe.
The SAFe structure grows when you move from one level to another by adding new roles and responsibilities.
Large-Scale Scrum (LeSS): Craig Larman and Bas Vodde created the LeSS framework. They evolved the LeSS framework from their experiences working with large-scale product development, especially in the telecoms and finance industries.
It developed by taking Scrum and trying many different experiments to discover what works. In 2013, the experiments were solidified into the LeSS framework rules. You can read all the experiments carried out by them in two books written by them.
Opposite to SAFe, LeSS talks about descaling Structure and organizational complexity to enable simplicity at scale.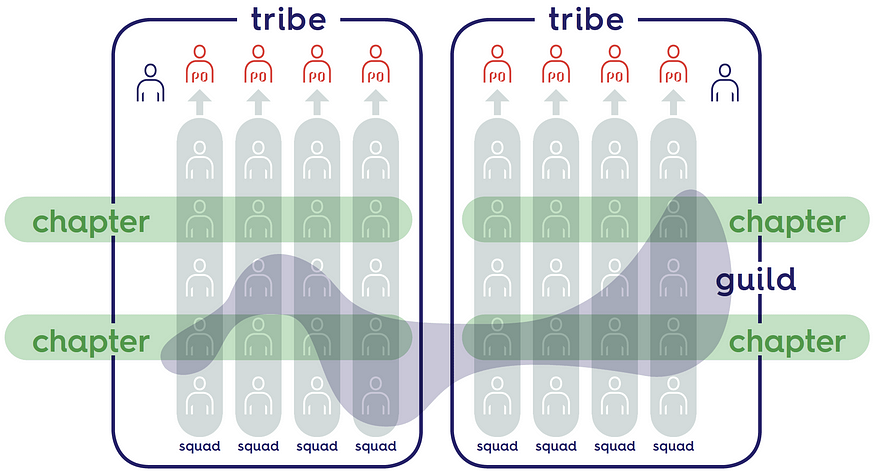 Spotify Model Framework: Many believe that Spotify is not a framework, but it is one of the most popular among many big corporates nowadays.
Many big consulting firms promote it. Spotify model talks about Squad, tribe, chapter, and gild, where the squad is a cross-functional team designed based on the customer journey.
The tribe is a collection of squads, and the chapter is more like a community of practices. However, the definition of chapter and tribe has changed a lot lately, and it gives a feeling of a matrix organization.
The Spotify model doesn't have any rules or guidelines publicly available like SAFe and LeSS. It gives many organizations a quick win because of multiple factors, including renaming the existing team as a squad. In the Spotify model, teams use LeSS, SAFe, Scrum, or Kanban at the squad or tribe level.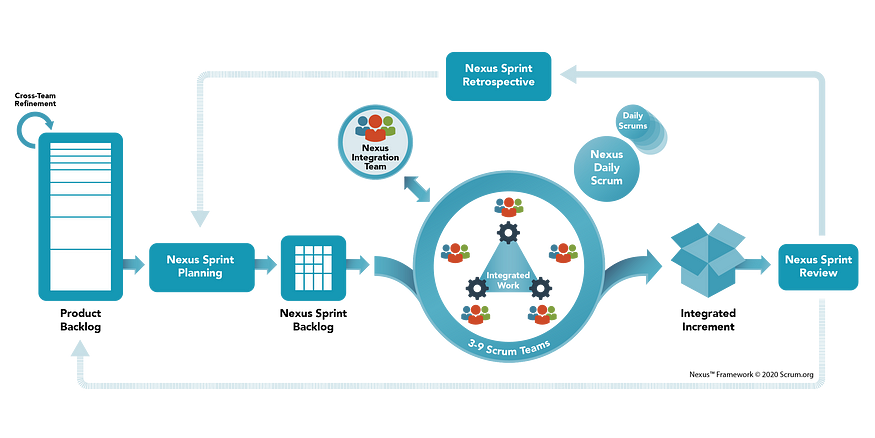 Nexus Framework: Nexus is similar to LeSS from the outside minus the Nexus integration team. It is a framework built upon Scrum but keeps Scrum untouched.
If multiple teams work on the same product and experience coordination chaos, then Nexus may be helpful. A Nexus is a group of approximately three to nine Scrum Teams who work together to deliver a single product; it connects people and things.
A Nexus has a single Product Owner who manages a single Product Backlog from which the Scrum Teams work. Unlike LeSS, Nexus doesn't come up with its principles and uses the Scrum framework's principles.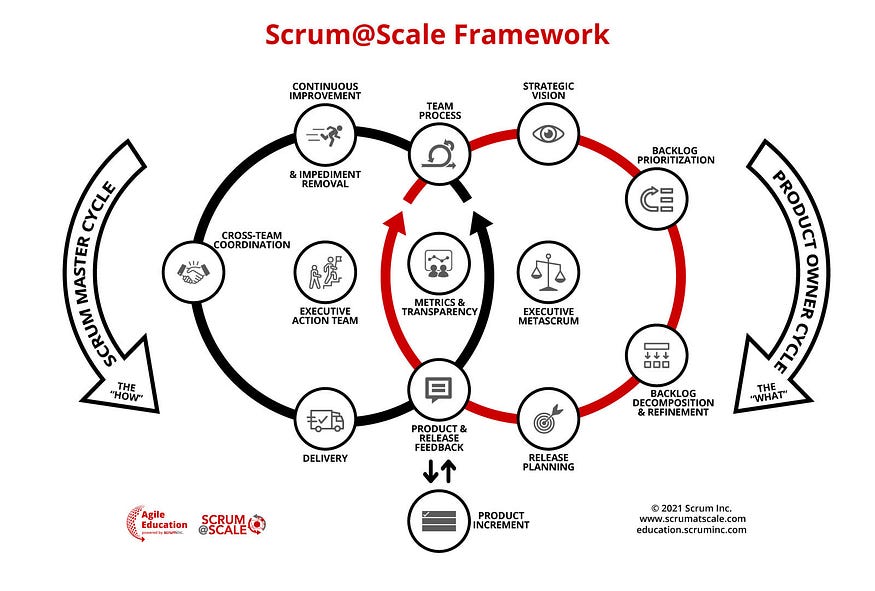 Scrum@Scale Framework: I don't know about it, so copying the Scrum Alliance website's definition. It says — Scrum@Scale is a framework within which networks of Scrum teams operating consistently with the Scrum Guide can address complex problems while creatively delivering products of the highest possible value.
These "products" may be hardware, software, complex integrated systems, processes, services, etc., depending upon the domain of the Scrum teams.
Disciplined Agile (DA): They don't call it a framework for scaling but call it a toolkit. They have everything inside the toolkit, including Scrum, Kanban, and SAFe.
As per the PMI website — The Disciplined Agile (DA) tool kit supplies straightforward guidance to help you, your team, and your enterprise increase effectiveness.
Apply and evolve your way of working (WoW) in a context-sensitive manner with this people-first, learning-oriented hybrid agile approach.
What scaling framework to choose?
It is a difficult question to answer. It depends a lot on what you want to achieve through these frameworks. Is it about alignment, coordination, and organization design for responsiveness, or want to scale because you have multiple teams but no challenges?
All of them have success stories, and all of them claim the same benefits. It comes down to individual organizations and teams to decide what suits them better.
Look at some simple parameters to decide:
Is it about product development or service delivery?
Are you talking about a program/portfolio or products?
How difficult to change the core system?
Are you a multi-site, distributed team?
Do you have challenges with alignments?
Is it a coordination problem because of silos?
What's your priority? Innovation or Improvement?
Are you running some digital transformation?
I look at SAFe as easy to adopt framework if you migrate from a traditional approach to managing projects and programs. LeSS if you want to bring inside-out change where leaders are committed to being teachers. Spotify to rename everything for a quick win and Nexus to scale Scrum with 3–9 teams to develop a complex product.
Why choose any scaling framework?
Ideally, you don't need any scaling framework if you think from a scaling point of view. A good Scrum team knows how to work with multiple teams in the same Scrum or figure out with the help of a competent agile coach.
So why choose any scaling framework? It becomes useful when you start heavy but think again when you begin with investing heavy? When you have more certain about direction and roadmap and know your customer and their expectations.
It is when SAFe becomes useful, and many Scrum people criticize SAFe. They criticize because they use Scrum for complex work with higher uncertainty and ambiguity. They fail to understand that SAFe does not talk about developing products in the lab because you may not require many people in the lab.
SAFe is useful when you move products from the lab to the production line, and it is when you need multiple teams.
Can we work with multiple frameworks?
Why not? Use Value Stream and Agile Release Train (ART) for better coordination. Use PI planning to bring alignment. Please don't call your team an agile team and call squad.
Put all agile teams working on the same ART under a single tribe. Rename Product Manager as Tribe Lead, RTE as Agile Coach, and the rest remain the same. Use the feature team concept from LeSS and make sure each team in ART is a feature team.
So you get the SAFe+Spotify+LeSS framework. Better to give a unique name, make a video and upload it on YouTube.
What is Scrum of Scrums?
It is a question for you to explore. Some call it a scaling framework, some call it an event, and few call it a useless thing. In SAFe, it is an event at the ART level, but in LeSS, it is a coordination meeting and not necessary.
Do you have any comments for me? Feel free to write to me if you wanted to learn about all this.
Find Our Upcoming Training