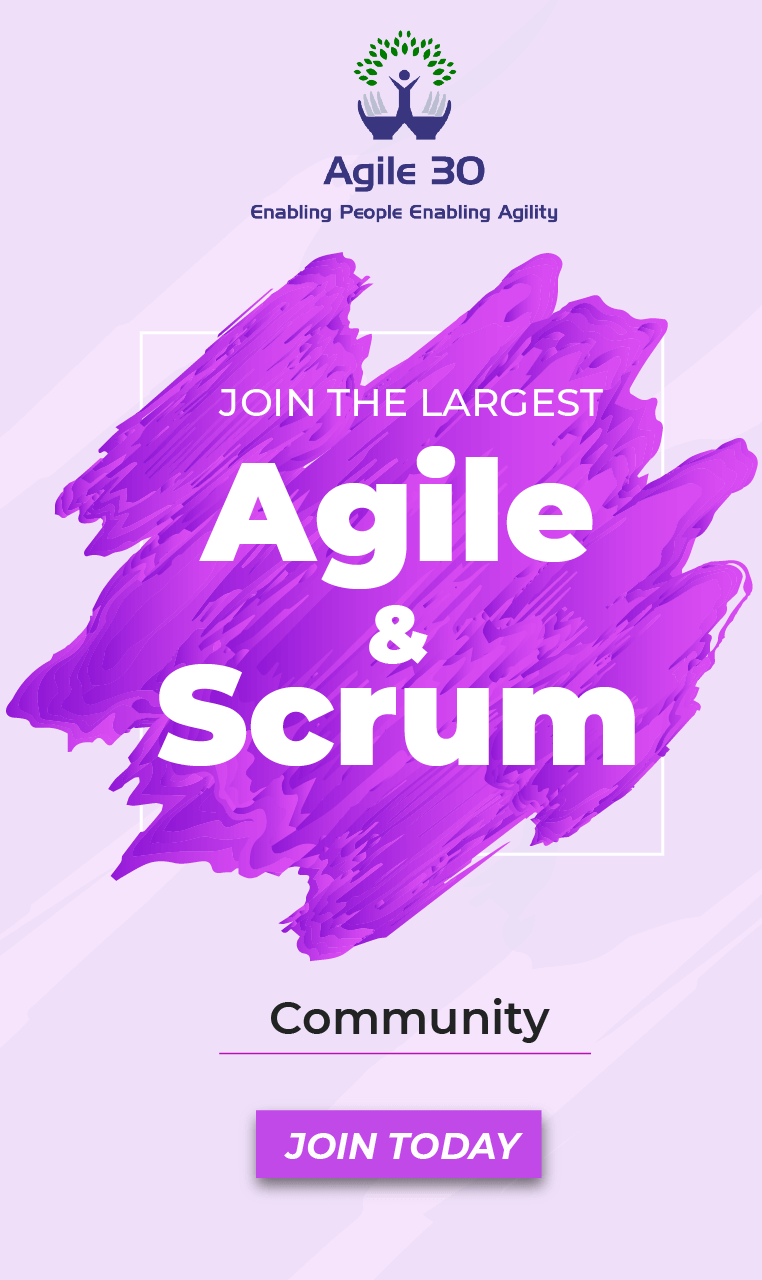 The Scrum Master job has been rising in demand in the last decade. We looked at the Google Trends data over the past decade, and the results are astonishing.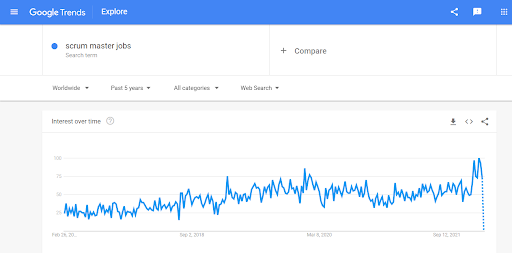 Source: Google Trends
The search term 'Scrum Master jobs' grew in popularity by 37% in the last 5 years. Validating this fact is Glassdoor's 50 Best Jobs of 2023, where Scrum Master is ranked at 32 and received a job satisfaction rating of 4.1, and a median base salary of $109,284.
Scrum emerging as the most popular framework makes it all the more exciting. Do you wish to become a master but don't know where to start?
Don't worry. You certainly aren't alone. Before we get to the benefits of Professional Scrum Master Certification Training, let's quickly explore the fundamentals.
Who is a Scrum Master?
The
Scrum Master
is the person responsible for applying the Scrum framework according to the Scrum guide. In addition, they oversee that teams follow the Agile principles and values.
Taking charge of the daily meetings, reviews, demos, and helping teams to improve are responsibilities of a Scrum Master.
The Scrum Master essays a different role to each stakeholder-
Scrum Team
Coaching the team members in self-management and cross-functionality

Assisting the Scrum team focus on forming high-value increments that meet the

Definition of Done

In charge of removing the obstacles hindering the progress of the Scrum team

Make sure all Scrum events taking place are positive, productive, and is within the timebox
Product Owner
Assisting in finding techniques for effectual Product Goal definition and Product Backlog Management

Explaining the importance of

Product Backlog

items in a clear and succinct manner

Aiding in setting up empirical product planning for an intricate environment

Smoothen stakeholder collaboration as requested or needed
Organization
Guiding, training, coaching, and mentoring the enterprise in Scrum assimilation

Planning and supervising the Scrum implementation within the firm

Teach employees and stakeholders to understand and enact an empirical approach for complex work

Eliminating barriers between stakeholders and Scrum teams
How to Become a Professional Scrum Master?
Becoming a Professional Scrum Master requires one to follow a series of steps outlined below-
Master the Scrum fundamentals

Becoming proficient in any subject requires adept mastery of its fundamentals. Scrum is no different. The first resource that will teach the basics like no other is the Scrum Guide. Next, familiarize yourself with the Scrum framework. Learn the Scrum glossary. Study the Nexus Guide and understand how numerous scrum teams work together. Read the Scrum.org resources.
Choose a Scrum certification.

Select a Scrum certification that is globally recognized. It should help you develop competency in Agile, Scrum, and the roles and responsibilities of a Scrum Master. The practical knowledge obtained through accredited bodies opens new doors to new opportunities. Here are some of the hallmark Scrum certifications-

Develop Skills

To become a successful Scrum Master, you need to develop both hard and soft skills. Here are a few skills that one has to build-

Systems Thinking: Systems thinking is the ability to solve problems in complicated systems. It helps Scrum Master have a holistic view of the organization.
Adaptability: The organizational environment is often volatile. Therefore, the Scrum Master should adjust to the changing times and the team needs. This way, they can motivate their team members.
People person: A Scrum Master will have members with different personalities. They interact with the Product Owner and team members. Having excellent interpersonal skills is essential for a successful career as a Scrum Master.
Develop the Agile mindset: Failures and setbacks often affect organizations. Developing an Agile mindset to try innovative ideas is a prerequisite for a Scrum Master. The Scrum Master must encourage the team to bounce back from failures and keep hustling.
Change catalyst: The Scrum Master must lead the team when seeking change. Motivating the team members to refine the processes and practices needs impeccable facilitation skills continuously. The Scrum Master is a change agent who assists the Scrum team and organization in enhancing agility, learning, and growth.
You might be interested in reading: The Definitive Guide to What Is Agile and Scrum
Top Benefits of Professional Scrum Master PSM Certification Training
If you believe you can become a Scrum Master without certification, then think again. Here are 5 benefits of PSM Certification Training-
1. Consolidate a strong Scrum foundation
There is no other better way to learn Scrum than a
Scrum certification
. It helps you learn the fundamentals, Agile principles, and best practices effectively.
It will help beginners gain a thorough understanding of the Scrum framework.
Even people who have implemented Scrum before can learn groundbreaking knowledge that will help Scrum Masters overcome hurdles while handling big Scrum teams and numerous departments.
So, the takeaway here is Scrum certification is beneficial for both beginners and experienced Scrum professionals.
2. Better pay compared to non-certified professionals.
Certifications provide empirical knowledge of Scrum and make you stand out from the pool of non-certified peers.
Getting an entry-level position is next to impossible without a Scrum certification. According to
2019 Scrum Master Trends
, 44% of the respondents reported earning $100,000 and upwards, while a meager 18% of the non-certified respondents said the same.
3. Complete know-how of Scrum artifacts
Scrum artifacts are the keystones of the entire Scrum layout that helps update the progress of the stakeholders.
Sprint backlog, backlog grooming, and burndown charts are a few examples of Scrum artifacts.
Learning all the scrum artifacts makes you skilled at maintaining transparency between the whole development team, stakeholders, and other parties involved. Moreover, being transparent has a benefit wherein it helps identify the flaws and errors in Agile projects and rectify them on the go.
It promotes frequent one-to-one communication, which reduces any differences of opinion between team members. This ensures the completion of projects before the deadline.
4. Grow an Agile mindset
An Agile mindset is the crux of a successful
Agile transformation
. The ability to think, evolve, and act as per the rapidly changing situation is a quality needed to become a seasoned Scrum Master.
The maturity to understand that there is no foolproof strategy comes with an Agile mindset. The appetite for risk and immunity to failure is high with an agile mindset.
With the growth mindset, implementing Scrum at all levels of an organization becomes smooth. Therefore, it is paramount to reduce conflicts among team members, enabling uniform team coordination and setting the roadmap towards successful projects.
5. Provide value and ensure Product Quality
Providing value and ensuring product quality are the two rudiments of Agile. Scrum is successful in doing these. Scrum certification will help you earn the nuances of providing value and ensuring product quality.
After
Scrum certification training
, you will be able to lead a project toward success which will become your professional accomplishment. In addition, employers and clients will be happy with your performance.
6. Boost Return On Investment (ROI)
Scrum mitigates the risk of project failures which boosts the ROI for the stakeholders.
Frequent feedback at regular stages of product development ensures quick correction of flaws which saves time and last-minute struggles. In addition, this will make sure that your product deliverables are on point.
7. Assessment of Risks
Professional Scrum Master Certification helps you learn the skills of assessing any red flags that might lead to a colossal failure of a project. You can guide your team in building better products with lower risks. This, in turn, ensures that there is optimum use of resources of time and resources and minimizes wastage.
This is an underrated skill, and this can lead to success up the corporate ladder.
Scrum Master Trends
The
Scrum Master Trends 2019
reported the following trends-
PSM, I topped the list of common Scrum certifications, with 53% of respondents voting for it

PSM II secured 8%, while PSM III raked 3%

83% of the participants had formal Scrum training, and 17% had formal facilitation training

72% of the Scrum Masters were corporate employees, 18% were consulting company employees, 10% were independent consultants

The average salary for Scrum Masters by region is as follows-

Oceania - $149,507

North America - $113, 295

Europe - $76,889

Africa - $62, 571

South America - $43, 505

Asia - $40, 326
Conclusion
Scrum is a sea, and getting started might seem overwhelming. However, a Scrum certification from a globally accredited agile body such as Scrum.org will give the much-needed foundation of Scrum.
The benefits of Scrum certification are higher earning potential compared to non-certified peers, the know-how of scrum artifacts, developing an agile mindset, providing value and ensuring quality, and assessing risks.
All of these have a cumulative impact on your personal growth and career.
We know your mind must be bursting with questions. Shoot them to our experts, and they will do the rest.
Find Our Upcoming Training