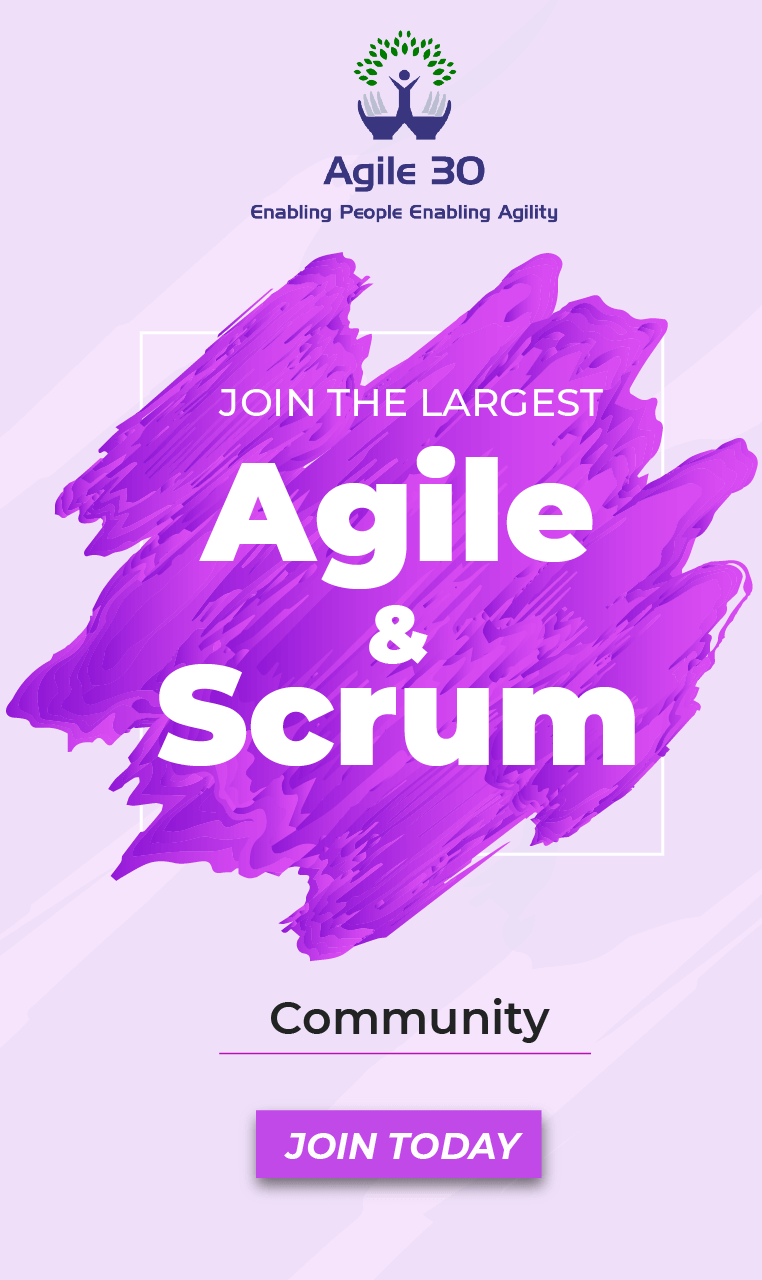 Let's say you're thinking about buying a new laptop. Or perhaps, you want to buy a new phone. What's the first thing you'll do? Well, if you were living in the 90s, my best guess is you'd visit a local shop to buy your desired gadget. But the thing is, this isn't the 90s! We live in 2023, where customers do around 70% of their purchasing research online.
Whenever you need to know what gadgets are doing good in the market or where you can find the best hotels, cars, and even shoes, you turn to Google. So, in today's digital world, if you want to skyrocket your business, it's crucial to have a presence on Google. According to Databox, 70% of marketers think SEO is more effective than PPC. And SEO or Search Engine Optimization will help you secure your online presence and position your website in the search engine rankings.
In this guide, you'll learn all the essential aspects of SEO. You'll learn everything from finding keywords that generate traffic, building links, and making your site search engine ready.
What is SEO?
SEO means Search Engine Optimization. It is an organic way of increasing your website traffic and visibility on Google. Good SEO means more visibility to your company's website, more visibility means more visitors to the site, and visitors mean high conversions and more revenue. SEO helps in the organic ranking of your website. This means you don't have to pay to attract traffic or engagement.
SEO is complex and keeps changing with time. There are three main parts of SEO- Technical SEO, On-Page SEO, and Off-Page SEO. It's a fact that SEO means optimizing your website for better rankings in the organic search results on search engines like Google. But it's not limited to only optimization. SEO may involve-
Content marketing
Branding
Public relations
Coding and web development
Content design
User experience
Conversion rate optimization
In short, your website's performance on Google won't only depend on SEO. You have to be good at your overall digital marketing strategy. Learning about SEO isn't enough; you need to put it into practice to understand how it works. However, if you can master the fundamental aspects of SEO, even a small percentage of SEO knowledge makes a huge difference.
How Search Engines Work?
The main purpose of search engines is to search and present the most relevant and useful information to the users. Every time you search for something on Google, their algorithm picks out pages or sites that are useful and relevant for your query. And it also ranks the results based on authority. Search engines like Google mainly have three tasks- Crawling and indexing, picking results, and displaying them to the users. Let's learn more about this.
Crawling and Indexing
The first task a search engine performs is to crawl the internet using a software program known as Spiders. With the help of the Spiders, search engines look for new pages and add the page URL to their giant index. The spiders or the software program repeat the same process for every new page they discover.
Eventually, it builds a big web of interconnected pages. After all, there's a reason why we call the internet www or the world wide web. The job of the spiders doesn't end after creating the index. They keep crawling because billions of pages are created and updated with new content daily. That's why spiders keep on updating the index.
Picking the Results
Now, search engines have to sort out what they'll display in the results from the big index. They choose pages based on what they find most useful, trustworthy, and authoritative. Now search engines keep their algorithm a secret. Nobody knows exactly how the algorithms work or the search engine picks the results. All we know is that the algorithms keep on changing over time.
However, Google has around 200 ranking factors, which play a significant part in ranking the page. Some of these factors are:
Quality and authority of your content.
Organic click-through rates.
Relevant keywords.
Website's domain authority
Page loading speed
Mobile-friendliness.
Number of relevant backlinks
A sitemap
Displaying the Results
Before 2000, on the search engine result page (SERP) only the organic results used to show up. Over the years, the SERP has changed drastically. Now, the SERP shows various information that doesn't even need a visit to the webpage. For example, if you search the term "apple" on Google, the search results will display a Knowledge panel, which is highlighted in red. Also, you can see the Google Ads results, highlighted in yellow.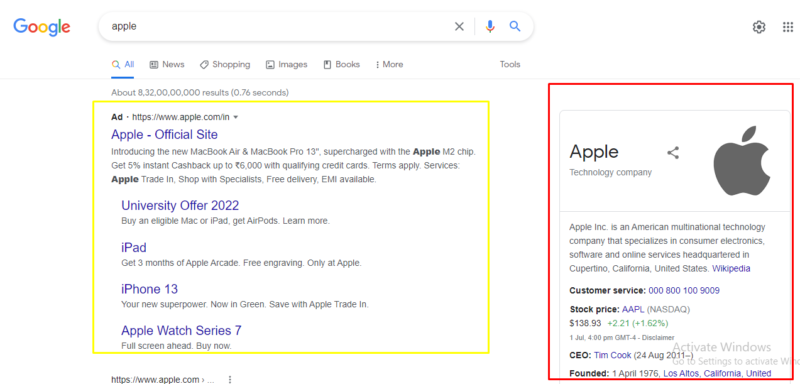 Similarly, if you search "apple laptop" on Google, the SERP will show you the sponsored products (highlighted in green) on the right side of your screen. And the organic results of the Apple website are highlighted in purple.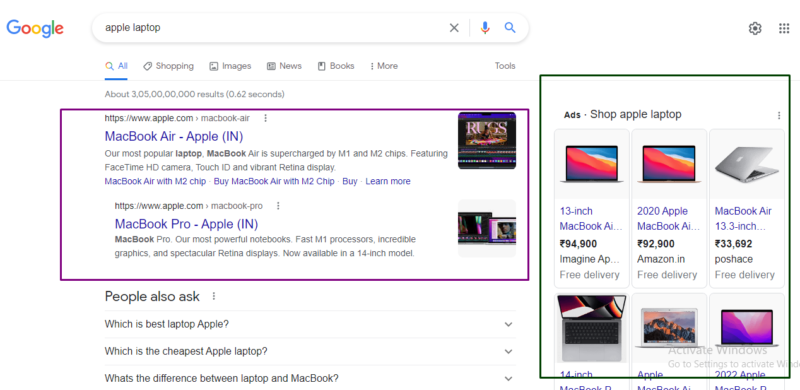 The most common SERP features in Google are:
Featured Snippet
Reviews
Sitelink
Videos
AMP
Local Pack
Top Stories
Google Ads
Sponsored Products
Shopping Ads
Instant Answer
Twitter
Images
Knowledge Panel
People Also Ask
Why is SEO Important?
Millions and billions of people go online on Google to look for answers. Per day Google receives more than 8 billion searches, Just imagine the traffic that this would bring to your business. This is why SEO is considered the most powerful strategy to attract organic traffic from across the globe. For instance, if you're selling a social media management tool, wouldn't you want it to show up every time someone searches for "best social media management tools"? It would be awesome, right?
Your prospects search for things, directly and indirectly, related to your business. Internet and search engines are the new way to connect with such prospects, answer their queries, solve their concerns, and gain a loyal customer base for your business. People these days go online to research before buying something. They evaluate their purchasing decision based on the reviews online. 66% of people conduct some type of online research before making a purchase.
Even prospects searching for information related to your businesses can bring more opportunities to connect with them and turn them into potential customers. So, the only way to level up your business and get noticed by customers is to focus on SEO and show up in the SERP.
Keyword Research
Keyword research is one of the most crucial aspects of SEO. They are mostly words or phrases that allow you to describe what your content is about. Basically, keywords work like a bridge between the pages search engines have indexed and searchers searching for answers to their questions.
While building a new website, keyword research can help you understand what niches and sub-niches are relevant to your target audience. Also, keyword research lets you find out what keywords are best to plan your content strategy.
Where can you find Keywords?
Seed Keywords
Researching seed keywords is the first step to finding more relevant keywords. For example, if you're a food blogger, keywords like food recipes, breakfast ideas, and dinner recipes will work as seed keywords.
Google Suggestions
Another way to research keywords is through Google autocompletes, People Also Ask, Related Searches, etc. Here are some examples of finding keywords through Google suggestions: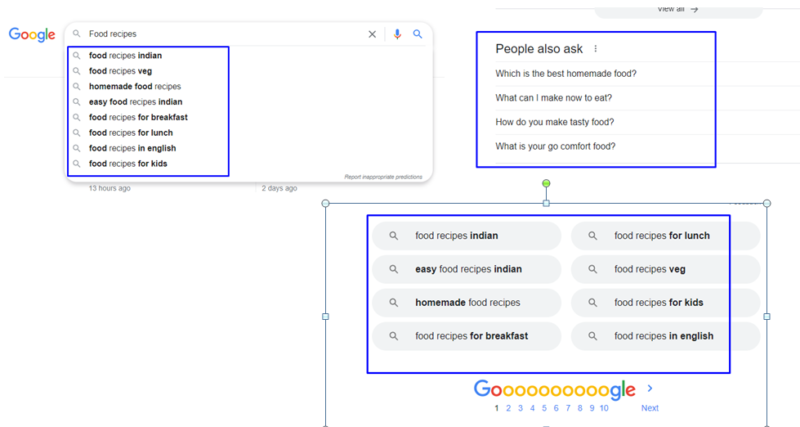 Keyword Tools
From a single keyword, you can create hundreds of more keywords using keyword tools. Professional keyword tools give you access to keyword suggestions, SEO metrics, and insights to analyze the best keywords and get competitive advantages. There are loads of free and paid keyword research tools available in the market. You can choose the tools based on your requirement and budget. Here are some popular keyword tools you can try:
SEMrush
Ahrefs
Yoast SEO
KWFinder
Answer The Public
Google Keyword Tool
Keyword Research Methods
While researching keywords, you have to look for keywords that can rank your site on page one of the search engine result pages. This will increase the chances of searchers clicking through your website. And to conduct your keyword research on a tool, you can use two methods-
Traditional Method
Competitor's domain
In traditional keyword research methods, all you need to do is type a seed keyword and let the tool look for relevant keywords. With a tool, you can analyze which keyword has better volume, more ranking difficulty, etc. For example, you can enter the food recipes keyword, and the keyword research tool will show you more related keywords.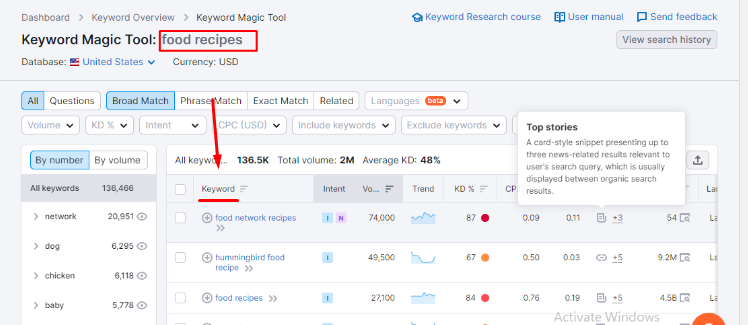 In the competitor's domain research method, simply enter your competitor's domain or site URL on the tool. And the tool will show you the keywords your competitors are already ranking for. For example, suppose you're a food blogger, and your competitor's website is bbcgoodfood.com. So, type the URL on the tool to see exactly what keywords bbcgoodfood is ranking for.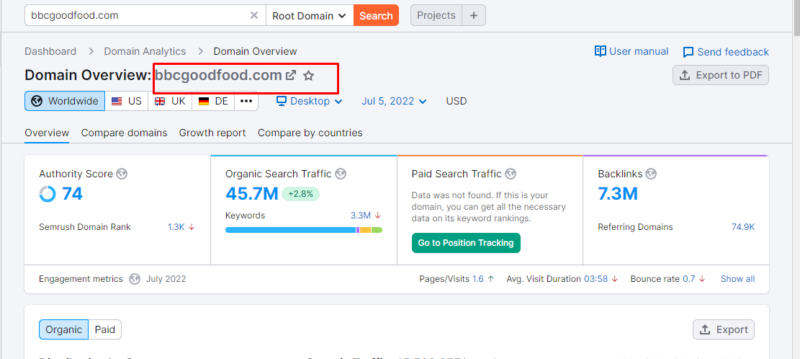 Keyword Metrics
While researching for keywords, make sure to look for three metrics- search volume, keyword difficulty, and keyword relevancy.
Keyword Search Volume
Before bloggers and content creators used to look for keywords with high search volumes, they used to stuff high volume keywords in order to rank high on the SERP. However, over time the methods of keyword research have changed a lot. Nowadays, the best SEO practice is to focus on long-tail keywords with low search volume. A quick heads up! Long-tail keywords are keywords that have at least three and more words.
Long-tail keywords have low search volumes, but they tend to have higher conversion rates. The reason is that long-tail keywords are more specific. According to Moz, over 54% of search queries are at least 3 words long. As a newbie website owner, keywords with high search volumes won't help you get a good rank. Once you build some authority, you can try out using high-volume keywords.
Keyword Difficulty
The next metric you need to evaluate is the keyword difficulty. Keyword difficulty will help you understand how difficult it will be to rank your website by evaluating your competition. Mostly keyword difficulty is indicated on a scale from 0 to 100. The higher the scale, the more difficult it is to rank on the SERP. In the picture below, the keyword difficulty is indicated as KD%, and the Keyword volume is shown as Vo.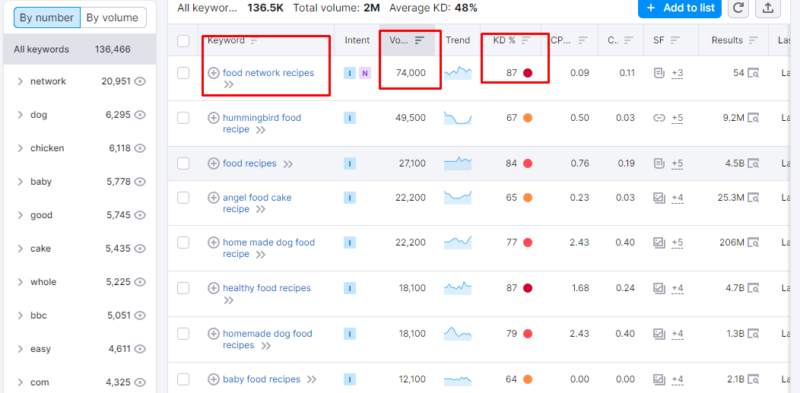 Keyword Relevancy
By looking at the keyword difficulty, volume, and search intent, you can figure out the keyword relevancy. There are mainly four search internet types-
Navigational
- Search for a specific brand or website.
Informational
- Search for generic information.
Transactional
- Search for buying something.
Commercial
- Search for research before the purchase.
Technical SEO
Next, we'll learn about Technical SEO. Technical SEO ensures that your website matches the technical requirements of search engines and results in high organic rankings. Even if you have the perfect site with high-quality content, poor technical SEO may ruin your site's ranking.
The basic job of search engines like Google is to crawl, index, and render your website pages. But this is only the tip of the iceberg. If your site page is not fully mobile optimized, well structured, free of duplicate content, secured, and fast loading, there's a high chance Google won't rank your page. That's why to improve your site's technical SEO; you have to keep a few things in mind:
JavaScript
Site architecture
XML sitemaps
URL structure
Structured data markup
Duplicate content
Thin content
HrefLang
Canonical tags
404 pages
301 redirects
On-Page SEO
The three basic elements of on-page SEO are Keywords, content, and images. Earlier, we've already talked about how you can do keyword research to stay on top of your SEO game. Now, let's explore how you can optimize keywords for SEO.
Title Tags
To rank your website first, you must understand where to place the keyword. And the most important place where you can put the targeted keyword you want to rank for is your site's title tag. According to Databox, in 2021, around 36% of SEO experts said the title tag was the most vital SEO element. Now don't confuse your page's title tag with the headline. The headline is typically indicated with an H1 or H2 HTML element. The title tag is located at the top of your browser. Here's an example: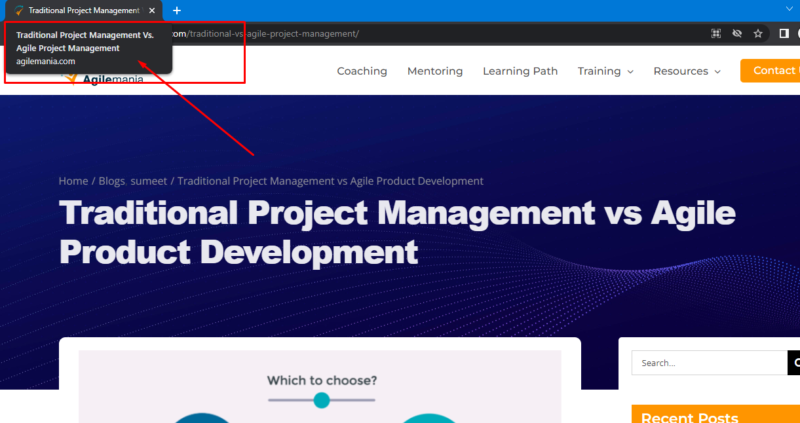 Google shows the title tag based on pixels and character counts. 55- 60 characters are considered a good number for title tags. Ensure to include keywords in the title tag in a natural and clickable way. After all, it's the first thing a searcher will see in the SERP.
Meta Descriptions
Another place to put the main keyword is the meta descriptions. The meta description is another HTML element that works as an ad copy for your site. The meta description shows up on Google results. So, if you have a compelling meta description, Google searchers will definitely click on your site. Here's an example of meta description, where we've concisely described who we are and what we do:

Body Content
Content is crucial in gaining organic traffic and ranking at the top. The website with the most realistic and informative answers to users' questions earns the top position on Google. For instance, when you type in "healthy homemade food," Google strives to show you the best website that recommends easily accessible and easy-to-cook food recipes available on the entire internet. Google tries to show you exactly what you searched for. Google directs you to the best content it can find and tries to provide the best possible solution.
This is where 50% of your work is done by producing unique, user-friendly content. Remember, any amount of effort on SEO is a waste of your time and resources if you publish poor-quality content. Even SEO can't save your website if your content is trash. Hence, focus on putting in the work. Content quality, intent, and freshness are essential elements in creating high-quality content. Here are a few more things you should consider while crafting the content of your site:
Content-Length:

Although there isn't one magic number, according to Backlinko and Ahrefs, the average content length of the top-ranking articles on Google is 1,447 words. That means if you want to get a good rank on SERP, write well-informative blog posts that solve your readers' problems.

Unique Content:

Writing unique content to get good rankings is crucial. A lot of sites contain thin, low-value, duplicate content that brings little or no traffic. So, make sure to analyze how much traffic you're getting from your site's pages to identify the duplicate and low-value content.

Engagement:

We can't exactly tell how the Google algorithm works, but over time it focuses more on engagement and user experience metrics to rank pages. And to increase the engagement on your pages, focus on writing helpful, value-added, compelling content so your audience stays on the page. Also, ensure that your site's pages are mobile-friendly, load quickly, and have a clean content layout (heading, intro, subheading, visuals).
Image Optimization
How you optimize your page's image can improve your site's overall ranking in the SERP. So, always make sure to resize the image and reduce the file size to make your page load faster and provide an awesome user experience. Also, adding Alt text on your site's images is essential. The Alt text helps search engines understand what the image is about. You can also include the main keyword on your Alt text to help Google index your image.
Backlinks and Link Building
Now we'll talk about backlinks and link building, which is another vital aspect of search engine optimization-
What is Backlinking?
Backlinking means linking one website to another one as a reference to your content. Mainly there are two types of links- internal and external. The internal links take you from one page to another within the website. On the other hand, external links take you to an external website. Google considers the link quantity and quality to judge our site's authority. The main factors that determine link quality are:
The high authority and popularity of a linking site.
Link from a site relevant to your site's niche.
Links from trustworthy domains.
Link Building
Link building means getting other well-known websites to link to your website. Getting a backlink from a renowned authority increases your website's traffic and boosts your website authority. However, remember that too many links can make you sound spammy and would negatively impact your website growth. It can also result in penalties. Hence, avoid shortcuts and focus on attaining backlinks due to your authenticity and good content. The other significant advantages of link building are increased traffic, brand authority, and recognition—the higher the quality of links, the higher the website reliability on Google.
How to create content for link building:
Include stats and helpful information in your content. Keep your content as original as possible. This will help build trust, and your content will be a go-to solution to all your readers' problems.
Being entertaining and humorous gets you a lot of reader attention and is a big win-win for you. It's an excellent strategy for attaining brand visibility.
Join with industry experts and influencers and include their quotes or interviews on your site. Such content will help you gain recognition for your content. Along with that, you'll have a link from a well-known person that you collaborated with.
Guest posting on a third-party website will help you add a few links to your website.
Now that you've learned all the basics of SEO, it's time to figure out whether you're efforts are effective or not.
Analyzing and Tracking SEO
Measuring and tracking your SEO strategies will help you improve your site's ranking and gather more traffic and engagement. The common SEO key performance indicators are:
Organic traffic growth
Keyword rankings
Conversion rate
Bounce rate
Average time on page
Number of indexed pages
Links growth
To analyze SEO, you can use analytic tools such as Google Analytics, Google Search Console, SEMrush, Ahrefs, etc.
Wrapping Up
So, if you've come to the end of this post, here's a quick recap of what we've covered so far:
What is SEO
How SEO Work
Importance of SEO
Keyword Research
Technical SEO
On-Page SEO
Backlinks and Link Building
Analyzing and Tracking SEO
There is a lot of content and information about SEO on the internet that might overwhelm you. But, we ask you to relax and take a deep breath as this piece has summed it all up in the simplest way possible. You might be an SEO beginner today, but with constant learning and practice, you will eventually become a professional SEO expert. A curious mind and a passion for learning are all it takes to learn SEO and gain the required knowledge.