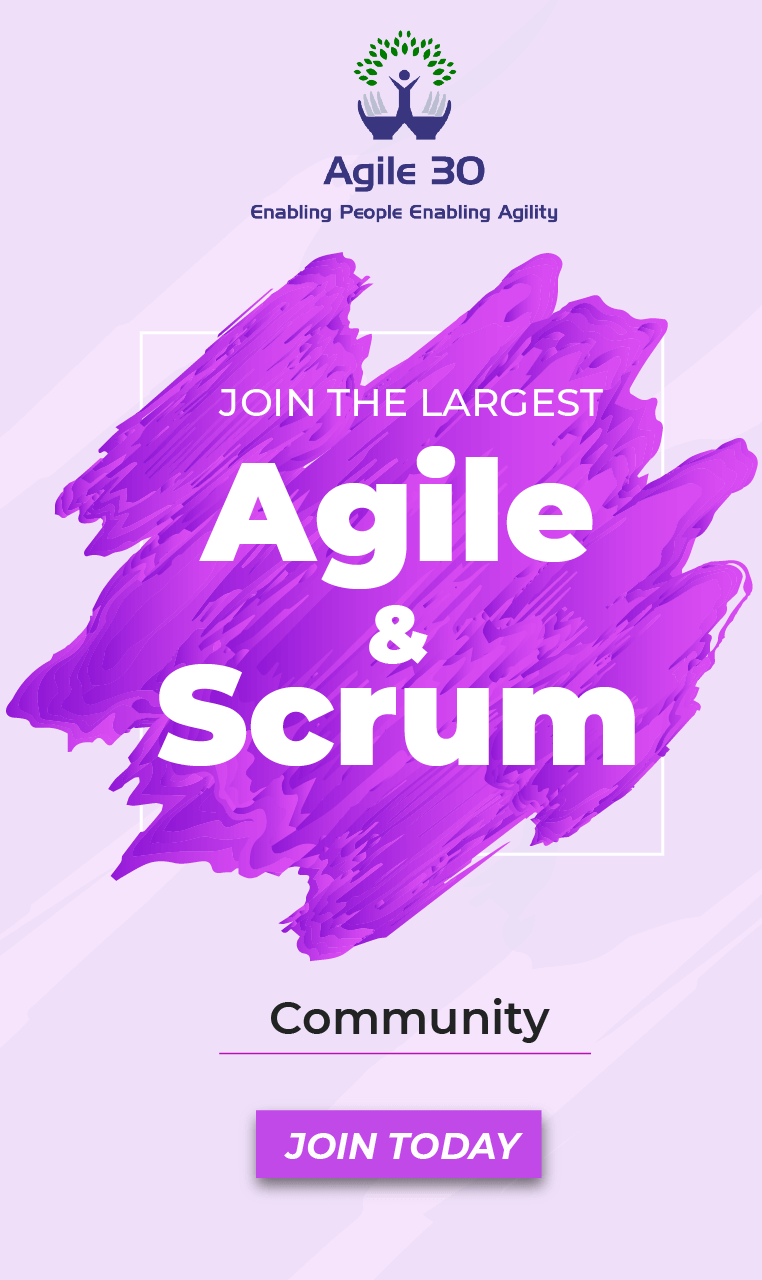 Agile 30 is an Agilemania community outreach program inspired by the Super 30 concept. Agile 30, a mentorship program started by Naveen Kumar Singh to mentor 30 talented and deserving candidates to pursue and excel at their aspiration to be good Agile coach, Scrum Master, Product Owner or technical coach. The primary focus for us to learn, build the knowledge base and share through community platform.
Also provide opportunities for co-training, co-coaching and earn a credential(s) that matter. Agile30 has user group in various countries and runs multiple Agile and Scrum related workshops and meet-ups as part of social learning. This program is intended to help in enhancing skills in the areas of teaching, presentation, facilitation, communication and coaching with a focus on 4 different tracks –
Agile Process Track,
Agile Technical Track,
Agile Product Development Track
Agile Leadership Track.
This program may help you in becoming Professional Scrum Trainer (PST), Certified Scrum Trainer (CST), Certified Enterprise Coach (CEC), Certified Team Coach (CTC), CTI-CPCC or ICF – ACC/PCC.
Note: – Above certifications are not the goal for this program.
Program Cost -
This is an Agilemania community outreach program and so there are no charge associated with this.The candidate however will have to share the costs incurred when involving external coaches and trainers.
Why We do it -
There is no end to learning, but there are many beginnings. ? Tim Johnson. Naveen started this initiative with the aim of guiding Scrum coaching enthusiasts in 2016.
The idea of Agile 30 was born when Naveen attending the Global Scrum Gathering, Bangalore, 2016 realised that a vast majority attending was looking for guidance on becoming coaches/trainers, looking for coaching opportunity, training assignments or wondering what to do next in agile space etc. This realisation coupled with Naveen's passion for enabling people, his thirst for new learnings and an opportunity to pay forward, paved way for Agile 30.
This is not a commercial platform but a platform where knowledge will be shared and learning will be for the love of Scrum!
What to expect?
Agilemania will support designing and facilitating this program and connecting you with professionals and coaches who can help you in your Scrum learning journey. The activities that we are/can provide:
Setting up and Managing the Groups
Setting up and organizing webinars, meetups and conferences Managing group email, WhatsApp and other social media related activities.
Assessment and Feedback
While this is a free program for participants, it's a huge commitment on Agilemania team both in terms of time and money. We like to ensure that we are working with the right candidates with the right mind-set. We expect you to be able to convince us why you are the right candidate for this program by detailing out your accomplishments and learning so far, your plans for the future and how we can help you get there?
Design and Facilitate Learning
Agilemania will design the entire program for the group based on the inputs we receive, such as you area of interest, what you want to learn or improve and from whom? If we need to engage any external coach, trainer or facilitator then we will make the necessary arrangements to train the group. The cost thus incurred will be shared by the group in actuals.
Partner to your journey
The program is expected to run for a maximum of 9 months but can be shorter based on individual knowledge and experience. Agilemania teams will be involved in coaching, teaching, providing opportunity to speak through meetups/ conferences, reviewing your presentation skills, arranging co-training/co-coaching as well as arranging paid training and coaching for you.
What's expected of you?
Willingness to learn and help the group in learning. Maintain group ethics, policies and procedures.
Involvement in Group Activities
Group will be organizing half-day meetup every quarter in 6 cities of India. You are required to attend these sessions in the capacity of an organizer as well as a speaker. This is an opportunity for feedback so will have another half day only for group learning. You should be able to organize 2 half-day meetups per quarter in your city with help from other group members. Group will try to find venues for free but your availability is a must.
Available to Coach and Train
Group will arrange opportunities for you to deliver 5-8 trainings during this program as per your interest areas. These opportunities will be both paid and free.
Available to Co-Train/Coach
Group will try to connect with trainer and coach to work with but can't ensure you co-training/coaching. Even if you don't get an opportunity immediately, you must be prepared and ready to travel to different locations when an opportunity presents.
Share Cost for External Training and Coaching Expenses
Individual training and coaching programs are expensive and many times not available at desired locations. We can invite coaches and can negotiate rates exclusively for our group and try our best to ensure that such trainings are available to the group at the lowest possible rate.
How to join this group
Send your detailed profile to
naveen@agilemania.com
with below details.
Why you want to join this program?
Total experience in Agile Methods
Agile certificates that you hold
Your track of interest.
Teaching experiences.
Coaching experiences.
Nature of your job - full-time or consulting?
Your willingness and availability to take up coaching/training assignment
Your willingness and availability to spare 2-3 days every month for this program.
Terms and Conditions
Member is expected to represent "Agile 30" through the social event like meetups, conferences, seminars etc.
Member shall inform the group if undertaking any assignment outside group to ensure transparency and better planning
Program is for 9 months and no extension beyond 9 months
Membership will be cancelled if one misses 2 subsequent learning events
Once revoked, a member cannot re-join
Members are expected to write articles, prepare video contents and run webinar under "Agile 30" till the time that they are associated with the group
We may charge a minimum amount per month as a membership fee if situation demands - Say in cases where we have to sign up for paid venues.
Find Our Upcoming Trainings