We join hands not to sell packaged solutions but to work together to achieve the goal. Our coaches provide support in setting up objectives for change, assessing current processes, helping to understand people's mind-set, designing roadmap and supporting yourjourney continuously.
We have the expertise in consulting organizations to adopt agility by taking good care of people. Our coaches having extensive experience in behavioral consulting, processesconsulting, leadership consulting and technical consulting. Our coaches are certified from ICF, ICAgile, Scrum Alliance and other leading Agile organizations. Coaches are trained on large scale agile frameworks like LeSS, SAFe®, DaD and Kanban having extensive experience on these frameworks.
Our Approach For Consulting
Our consulting includes a 4 step process to drive change and build cross-functional and self-organizing teams. Engagement is driven by business objectives and ROI with flexibility to come out from the engagement as and when the business objective is achieved.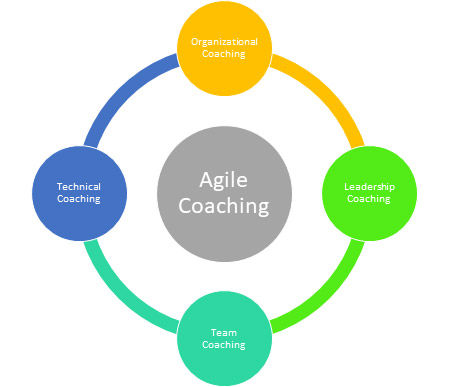 Define Goal
It's important to understand why an organization wants to change so that there is a motivation for continuous improvement. This phase is about identifying the variables that an organization feels are not in the right direction. In order to achieve global optimization and support for change, we need to identify the variables that affect the whole system.
We suggest organizing a change workshop to have discussion with management and team to define a goal for change. We use tools like change canvas, 5 whys, writing elevator pitch, drawing causal loop diagram and designing perfect organization game that help us define this goal.
Rather than actively involving only a handful of those present, and drowning out other voices, Liberating Structures allow everyone to be equally involved in shaping future actions.
Rather than focusing on individuals, Liberating Structures taps into the wisdom and creativity of the entire group.
Assessment
Assessment includes assessing people's mind-set, governing processes, adopting practices and toolsets. We start assessment by capturing current processes, practices, and organize workshops to understand people mind-set. Collect data for the KPIs to benchmark the current state. Identify teams inside or outside the organization that are exhibiting the characteristics of what the organization wants to be. Analyze the whole system and structure to understand the impact of change to design new plan. Draw complete delivery pipeline of the work done today to identify the bottlenecks in the pipeline.
Our assessment process includes many small workshops around designing value stream mapping, assessments game and brainstorming sessions. Assessment includes questionnaires, surveys, group discussions and interviewing leaders.
Design Roadmap
Transformation is about bringing change in people's mindset, organization culture and processes. Change is possible but takes time and our coaches spend a majority of their time in this phase. Our coaches work with the team and go through a cycle of plan-do-check-act. We focus more on building internal capabilities to sustain adoption. We design new processes, help teams to adapt while at the same time build internal coaches who can take this journey forward.
Our experience says, we need to invest minimum 8 weeks to 6 months for every team to start working in a self-organizing culture. Our coaches stay with you for an agreed period working with your leaders and team.
Initiate Journey
Application of the roadmap is the longest and most continuous step in the whole journey. Application requires facilitation, inspection, and adaption with great patience. Change can be smooth but majority of the time it's disruptive. We make this journey transparent and restore trust of people by designing an information radiator. Transformation process depends on what kind of roadmap we have designed in previous steps but standard processes include Kick-Off Pilot, Review, Stabilize and Rollout for targeted business units.
We focus more on designing your own process Vs renting processes but we do occasionally suggest going with the use of standard organization transformation frameworks like LeSS, SAFe® or Spotify etc. A lot depends on leadership team/ organization complexity and what change means to the organization.
Review the overall progress made towards transformation goal comparing KPIs and identify further improvement to achieve objective stated initially. We design KPIs driven by outcome not driven by output to ensure leaders focus on business value rather than fake productivity.
Every process requires continuous review in order to be effective else processes without reviews become legacy going forward. We propose to plan investment for continuous review by external entity. We engage in such reviews to ensure processes are going through continuous improvement.
Why Agilemania
Our vision is to be the Preferred Agile Company and partner to your growth. Our promise is to provide the best in training, consulting and learning support to professionals and organizations and ensure we exceed their satisfaction.
We are the leading source of Intelligent Information support for businesses and professionals across the globe, providing them with enhanced workforce and the competitive edge. Our Intelligent Information Service is a unique blend of human intelligence, industry expertise and innovative technology enabling the end-user to make better decisions and manage a team or project with maximum efficacy.
Consulting
We provide consulting with defined objective such as running pilot for few teams, help in implementing tools like Jira, Confluence, Rally, VersionOne etc. Consulting to Kick-start your Scaling Framework implementation journey or setting up DevOps practices with implementation of tools.
Key Area of Consulting
DevOps consulting in the area of building DevOps team, finding right toolchain for your organization, training staff on DevOps tools and running pilot.
Setting up technical practices such as Behavior Driven Development, Test Driven Development and Continuous Integration etc.
Setting up ALM tools and training. We provide support for Jira, Rally, TFS, SwiftKanban and VersionOne etc.
Agile Health Assessment by independent coaches to ensure organization is moving towards goal by evaluating processes, people and culture etc.
Help in rolling out frameworks like Nexus, LeSS,Kanban and Scrum by training staffs, running pilot and designing information radiator.
Coaching
Small incremental changes in process and structure will fuel change in the organization; however, the real change comes when people in your organization believe in the change. Through careful analysis we must see what needs to be changed for people to feel motivated enough to persevere with the changes. This necessitates a fresh look at re-generative learning of the organization.
We believe coaching is more of open-ended work done by skilled facilitators. Our coaches are excellent facilitators to bring change in mindset. We do define objective but success depends on various factors. Coaching leads to building capabilities by enabling individual to give 100% in organization success.
Our shepherds help team to understand what success means for an agile organization. We support in your success by providing services for Leadership Coaching, Product Coaching, Flow Coaching and Technical Coaching.