The Agile Managers Coaching program is developed specific to the requirement for up-skill the current managers skills across organization. This program is designed in such a way to mix class room based learning (face to Face) followed by an ongoing coaching engagement for the predefined duration. In this way the participant can learn, try, explore and find new possibilities.
This program is designed based on the principles from the ICAgile & ICF coaching model.Primary Objectives:
The primary focus on this program is to introduce the participants to the areas of:
Mentoring
The focus is around the mentoring techniques
Facilitation
The focus is around the facilitation skills and how to be a good facilitator
Coaching
The focus is around the coaching skills and how to be a good coach
Since today's managers deal with the business of digital and agile transformation the above learning objectives will be explained in the context of Agile as it is one of the prime business driver. The examples and activities will be customized based on the participants need.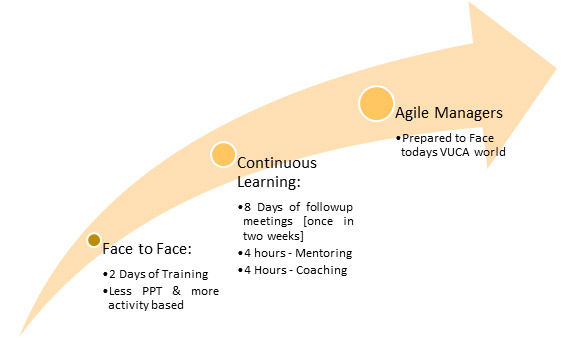 Target Audience
Leadership Teams, Managers, HR representative & anyone who is managing a team in an organization moving towards agility
Duration
The complete program is divided into 2 parts and span across 3 months (90 days).
Part – 1:
16 hours (2 consecutive days) Face to Face class room session (more of workshop based / activity based than PPT driven)
Part – 2:
64 hours (8 Days) of post class room session span across 3 months (90 days). Each day of this will be divided into two parts

Part – 1: 4 hours of Facilitation / mentoring session with the complete participants / selected participants
Part – 2: 4 hours of coaching session with the selected participants